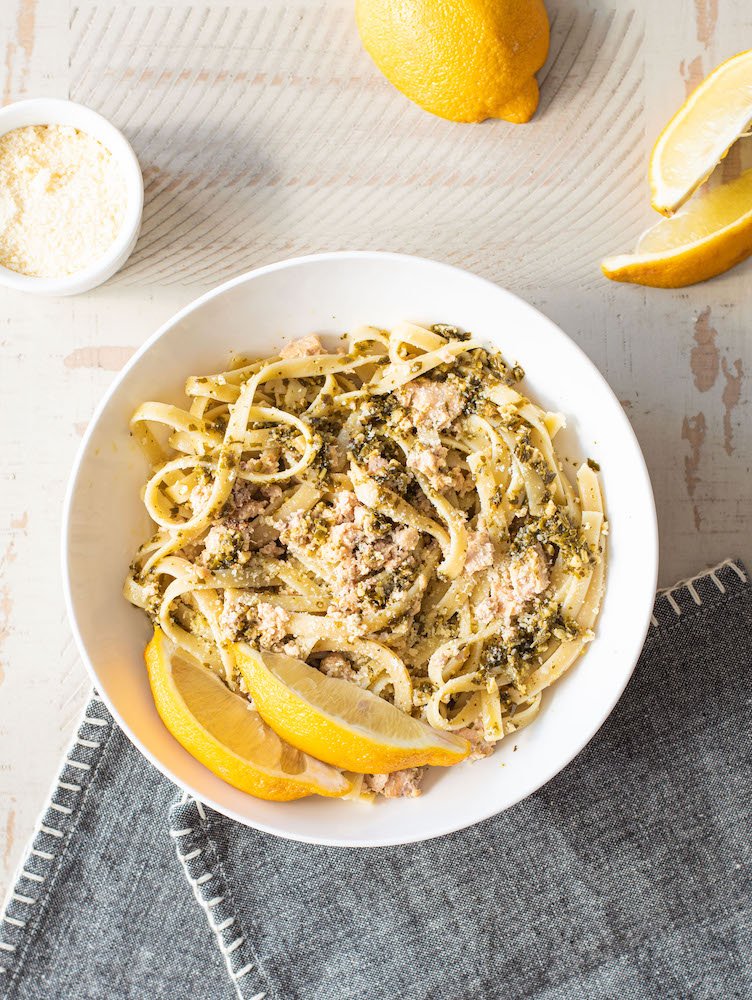 This salmon pesto pasta is a quick and easy weeknight meal using canned salmon and pasta tossed in a hearty pesto sauce. You will love this pantry meal that comes together in the amount of time it takes to boil a pot of pasta!
Using Canned Salmon
Canned or easy to open salmon pouches are inexpensive, healthy, and convenient. Packed with heart healthy fats and protein, I always keep some on hand for when I want a quick meal and don't feel like chicken. 
Sometimes, people struggle with what to make using canned fish since the taste is a little different compared to fresh. But the simplicity of the salmon, vibrant pesto, and tangy Parmesan mixed with a hint of lemon, are all you need to make these flavors sing. 
While this quick and easy pasta is sure to hit the spot, you might also like these canned seafood recipes.
Ingredients
Wild Caught Pink Salmon: boneless and skinless - a convenient, inexpensive way to add a quick protein to your dishes. You can find it canned or in single-serve pouches like the Starkist E.V.O.O Wild Pink Salmon Pouches.
Pesto (it's the besto): store bought or homemade (if you have time for that). I recommend using a brand you love since the pesto flavor really shines in this recipe. A lot of jarred pestos are high in sodium so keep an eye on the nutrition label!
Greek yogurt: many similar recipes call for a cream sauce using heavy cream. Yogurt gives you a lighter, healthier version with the same great texture.
Lemon: some jarred pestos can taste quite lemony so you may not need to add the lemon juice.
Pasta: feel free to use any kind of pasta for this recipe!
Variations
Love veggies? Chopped asparagus, broccoli, or sautéed spinach are a great addition to this pesto salmon pasta.
Love garlic? Add 1-2 cloves of sautéed garlic to the final mixture.
Love heat? A pinch of red pepper flakes will do the trick.
Substitutions
If you don't want a creamy sauce, omit the yogurt and reserve ½ cup pasta water to mix with pesto before tossing. The sauce will thicken, but this helps it stick to the pasta so you can enjoy every bite.
I hope you enjoy this salmon pesto pasta as much as we did!  Feel free to leave a comment or rating below if you get a chance to try it.