Got canned beans? Then you've got a meal. Here's everything you need to know about how to cook canned beans so you can get a delicious dinner on the table in 5-minutes.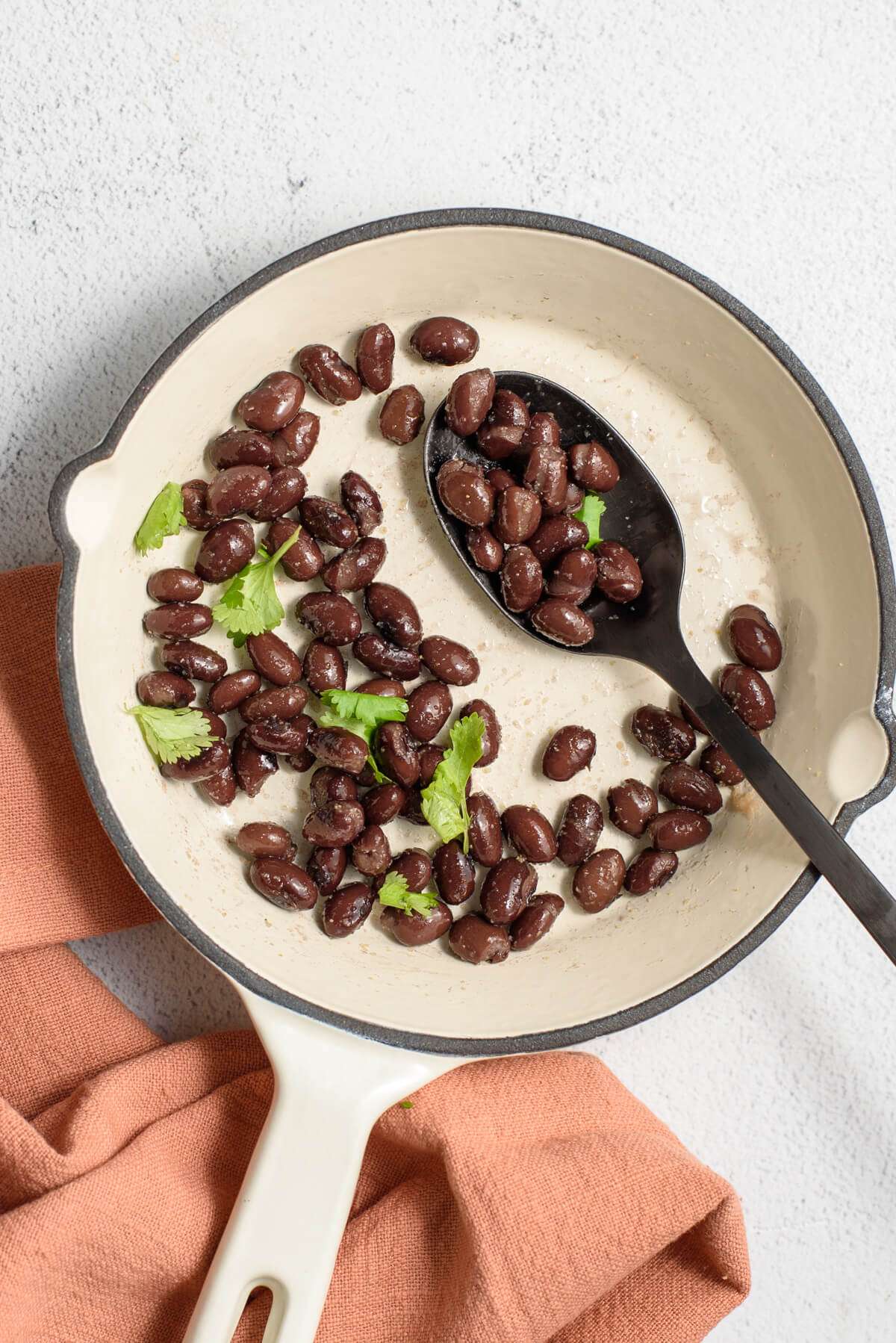 Let's be honest, most of us don't have the time or patience to cook dried beans. And while rehydrating dried beans may add a tad more flavor to your dish, canned beans reign supreme in terms of convenience.
Beans are an inexpensive, easy way to pack fiber, B vitamins, and protein into any meal. With a can of beans and a few pantry staples, you can whip up the perfect base for soup, chili, tacos, rice, and dips in under 5-minutes.
If you don't know how to cook canned beans, here's are two easy methods to make your dinner a whole lot tastier. And you won't have to eat them straight out of the can... unless you're into that, I don't judge.
Jump to:
How To Cook Canned Beans
Why are canned beans time savers? They're already cooked! Unlike dried beans, there is no soaking required. Dried beans tend to soak up the flavor of the dish while cooking, which is why some people think beans from a can tend to be bland. But they don't have to be!
And there's not much to it. No matter which method you choose, here's the main concept behind cooking fast and easy canned beans.
Drain the beans (rinsing optional): draining

applies to working with all different types of beans, no matter how you plan to prepare them

. Rinsing the beans comes down to preference.

Using all the contents in the can add a bit of flavor

and saucy texture, especially with black beans, but it doesn't appeal to everyone.
Choose your cooking method: Stove top? Oven roast? Microwave? This will determine whether or not to dry the beans before seasoning and cooking.
Add a boost of flavor: In order to bring new life to your canned beans, you'll want to season them with spices that compliment their flavor rather than just adding salt since they usually have a good amount already. More on seasoning later...
Canned Beans On The Stove Top
Cooking canned beans on the stove is one of the easiest and most common methods. Since they are already cooked, you just need to heat them up, which takes all but 5-minutes. Add a few flavor enhancers and dinner is served!
Drain and rinse the beans (remember, that's optional).
Place a pot on the stove and set to low or medium heat. Add fat (olive oil, avocado oil, canola oil, butter - whatever you prefer to cook with) and natural flavor enhancers like garlic, onions, and tomatoes.
Pour the beans directly into the pot and season for how you plan to use them. Allow it to simmer, stirring occasionally.
Continue to stir and heat beans until they reach the desired temperature and consistency, about 5-10 minutes.
Try tossing beans in chili powder and cumin to use for tacos, burritos, or rice bowls. If you want to go the extra mile, consider adding chopped onion or bell pepper, cilantro, or fresh lime juice to the beans as they simmer.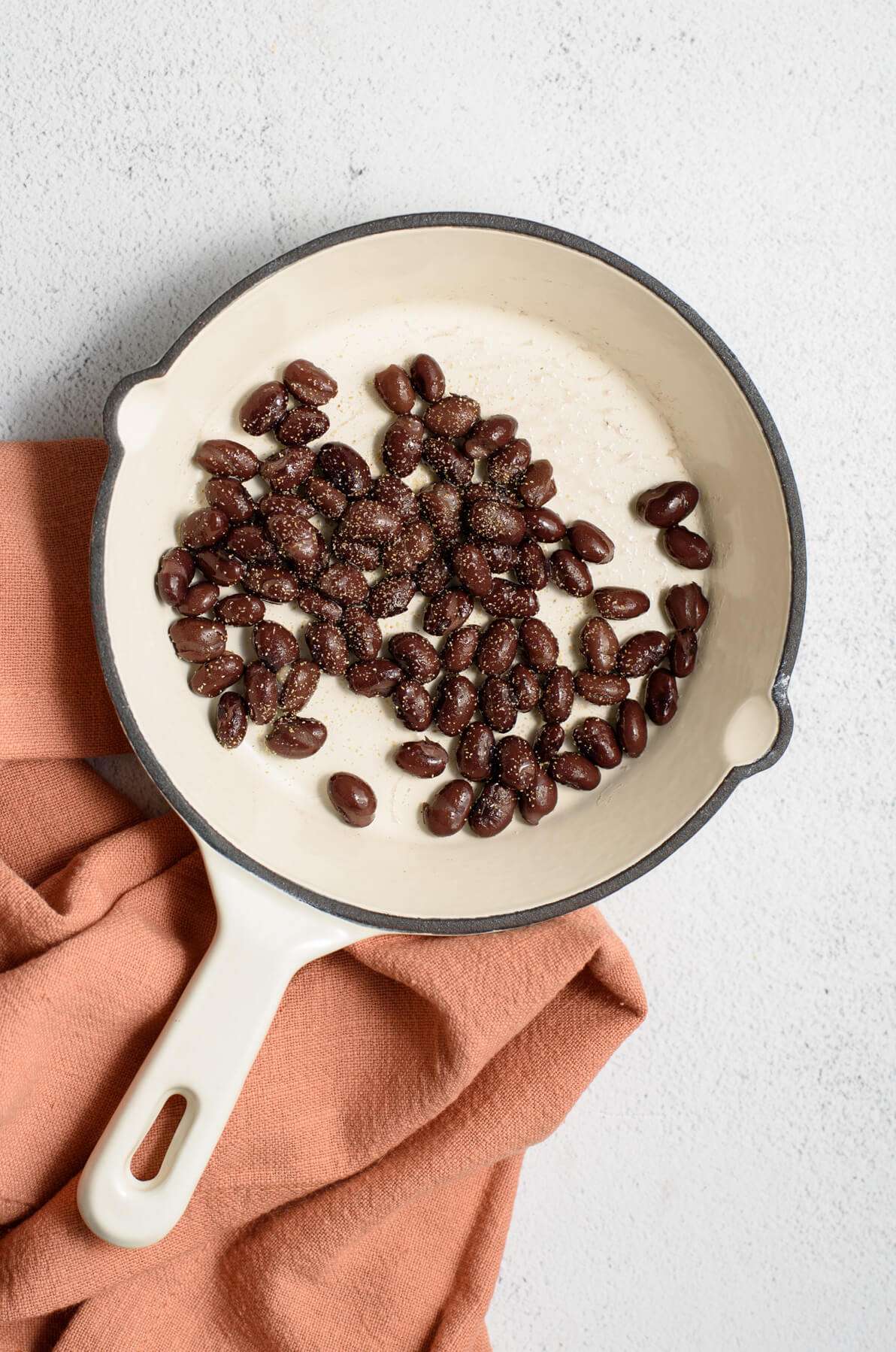 Pro-tip: Certain starchy beans like black beans, kidney beans, and cannellini beans, will dry out if they're not cooked in enough additional liquid. Cooking in ½ cup water or broth will help retain their shape and texture.
Oven Roasted Canned Beans
Beans like chickpeas are more solid and crisp nicely when roasted. Season them however you'd like for the perfect crunch in salads or as a snack.
Preheat oven to 425°F. Line a baking sheet with parchment paper.

Spread chickpeas on a kitchen towel and pat dry.

Transfer to baking sheet. Toss with olive oil and your preferred seasoning.

Roast 20-30 minutes or until golden brown and crisp.
What To Make With Canned Beans
Stove top and oven roasted are the best way to cook beans as a standalone side dish, but you can also add them to some of your favorite recipes to bring extra texture and flavor.
Kidney beans are great for soups and stews, while cannellini beans are delicious in white chicken chili. Black beans are also perfect for burritos, rice bowls, nachos, and omelets. Transform your chickpeas into a homemade hummus or meal prep chickpea artichoke salad jars.
No matter the bean, no matter the dish, a can of beans in your pantry will always come in handy. Let us know your favorite way to use canned beans!