Have you ever made an oatmeal muffin in a mug? It's the quickest, most delicious breakfast or afternoon treat you'll ever make! With just a mug, and two minutes in the microwave, you have a cup full of "banana bread" and a belly full of fiber.
Got 2 minutes? Then, you have time for a healthy breakfast! This 2 minute microwave muffin tastes just like banana bread - rich, sweet, hearty, and totally breakfast worthy.
So if you're tired of using your brown bananas for actual banana bread, you can change things up a bit with this banana bread oatmeal muffin!
Jump to:
Oatmeal Muffin in a Mug
There are a ton of single-serving microwave recipes out there, but many are on the indulgent side – I'm taking to you, brownie in a mug.
I love muffins, but hate making a whole batch if I'm the only one eating. A few years ago, someone introduced me to single-serve oatmeal microwave muffins and I've been obsessed ever since. They're a cross between baked oatmeal and muffins and are ready to go in just 2 minutes!
The base is always the same: oats + liquid + egg. From there, the flavor possibilities are endless (my personal favorite is banana bread, but you can find more delicious ideas at the end of this post).
Microwave Baked Oats
There are so many ways to cook oatmeal - overnight, stovetop, baked , Instant Pot... but nothing is faster than using the good ol' microwave. 
Banana Bread Oatmeal Muffin Ingredients
Oatmeal: since microwave oatmeal is supposed to be a quick and easy breakfast solution, it's best to use rolled oats or instant-oatmeal. 
Banana: natural sweetener, adds moisture to the "muffin". Remember: riper bananas = a sweeter muffin.
Milk: any milk you have on hand will do the trick.
Egg: holds all of the ingredients together and gives recipe more of a cake-like texture.
Ground flaxseed: for a boost of fiber.
Honey: because it's sweet and delicious, duh.
Cinnamon: because every classic banana bread recipe has cinnamon.
Mix-ins: try adding a handful of dark chocolate chips or nuts.
Toppings: top with pecans, walnuts, peanut butter, or yogurt.
How To Make Baked Oats In The Microwave
Baked oatmeal in a mug couldn't be easier! All you need is a mug and a microwave.. 🤯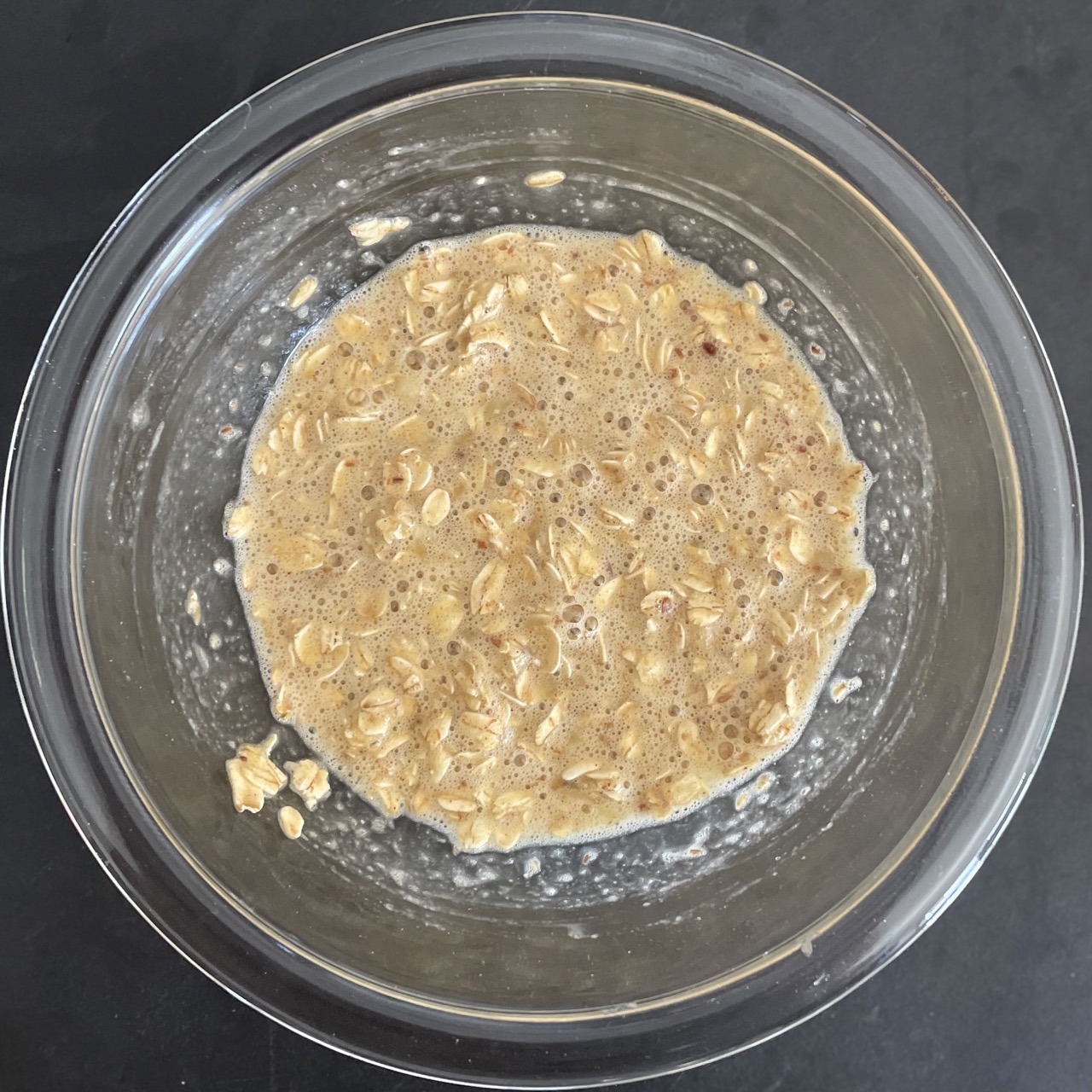 Combine all ingredients in a mug. If you really want another dish to wash you can mix them in a small bowl and transfer to a mug, but that seems like a lot of work.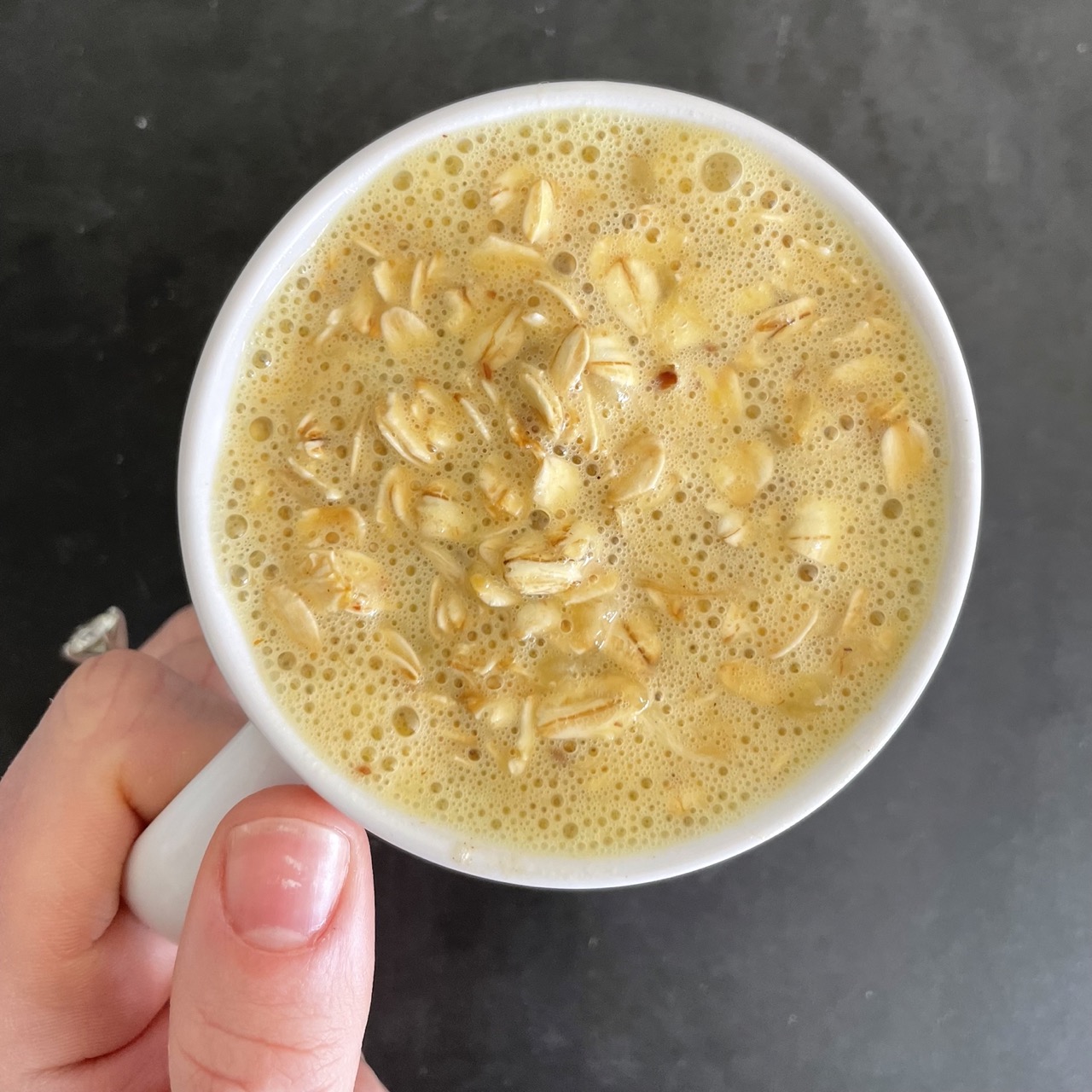 Microwave for 1-2 minutes. If you like your oatmeal gooey, cook it for 1-1.5 minutes - it's kind of like an underbaked oatmeal cookie (yum!). If you want baked oats to be more like cake, cook for 2 minutes until it's cake-like and fluffy.
Top and enjoy! I like to add a splash of milk and some peanut or almond butter. Feel free to add a dollop of yogurt or handful of nuts.
Tip: If you're wanting to make the TikTok baked oats, be sure to blend your oats into flour or use oat flour before combining with the other ingredients.
Variations
Lemon Cheesecake: 1 tablespoon honey + 1 teaspoon lemon zest
Chocolate Peanut Butter: 1 tablespoon peanut butter + 1 tablespoon cocoa powder + 1 tablespoon honey
Apple Cinnamon: diced apple + 1 teaspoon cinnamon + 1 teaspoon maple syrup
Blueberry muffin: handful of blueberries + 1 tablespoon almond butter + 1 tablespoon maple syrup + 1 teaspoon cinnamon
More breakfast recipes you'll love
Strawberry banana baked oatmeal cups
Over hard eggs
Chocolate avocado pudding
Overnight oats with water
What are you waiting for? Grab a mug and a microwave and get cooking! And don't forget to rate and review once you've tried them!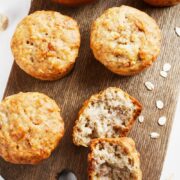 Banana Bread Oatmeal Muffin In A Mug
The quickest, most delicious breakfast or afternoon treat you'll ever make. With just a mug, and two minutes in the microwave, you have a cup full of "banana bread" and a belly full of fiber!
Print
Pin
Rate
Ingredients
1

pack

instant oatmeal*

½

ripe banana

mashed

1

tablespoon

milk

1

egg

½

teaspoon

cinnamon

1

teaspoon

ground flaxseed

1

teaspoon

honey

chocolate chips

optional
Optional Toppings:
crushed walnuts or pecans, melted peanut butter, blueberries
Instructions
Gently mix all ingredients (including chocolate chips, if using) in a small bowl.

Pour into a microwave safe mug and microwave for 2 minutes. If still a little wet, microwave in 15 second intervals until cooked through.

Eat in the mug as is or invert onto a plate.
Notes
Any single serve oatmeal packet or cup will do! You can also use ½ cup rolled oats.