These Overnight Oats with Water are made with 5 simple ingredients and less than 5 minutes of prep time! While overnight oats are typically made with milk, they can just as easily be made with water.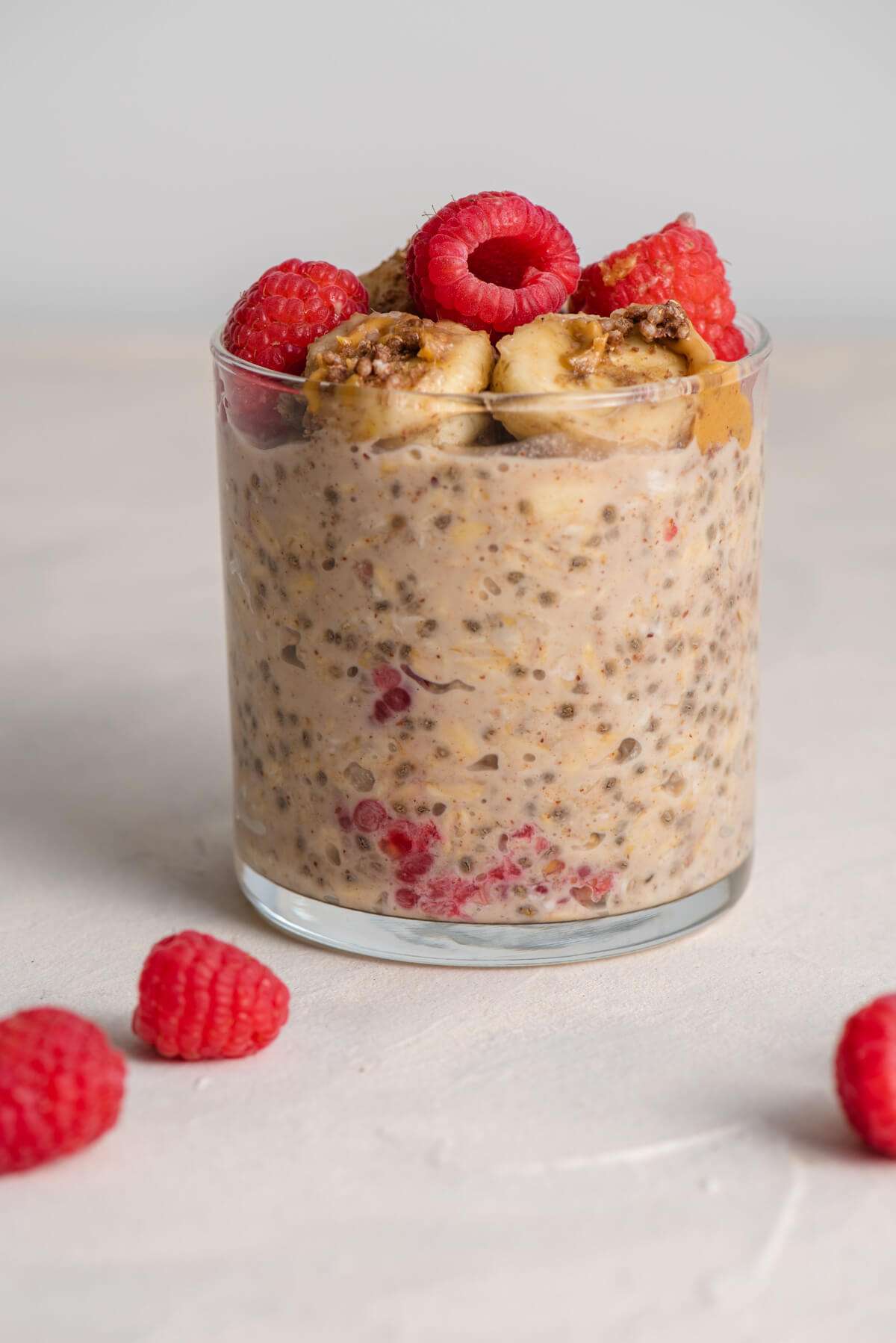 Whether you ran out of milk or need a dairy-free, plant-based alternative breakfast, overnight oats with water are the perfect solution. They are one of the simplest breakfasts to meal prep, astoundingly creamy, and easily customizable.
And if you've already hopped on the overnight oats bandwagon and need some recipe inspiration, try these overnight oats with frozen fruit!
Jump to:
Can You Make Overnight Oats With Water?
Yes, you can use water to make overnight oats. The combination of water, chia seeds, and yogurt achieves the same creamy consistency you get from milk. We can also compensate for the lack of creaminess and flavor by adding other nutritious ingredients like mashed banana or nut butter.
Ingredients and Substitutions
These ingredients serve as the base for overnight oats with water. Use this to meal prep your oats and add your toppings the morning of so you can switch up the flavors all week!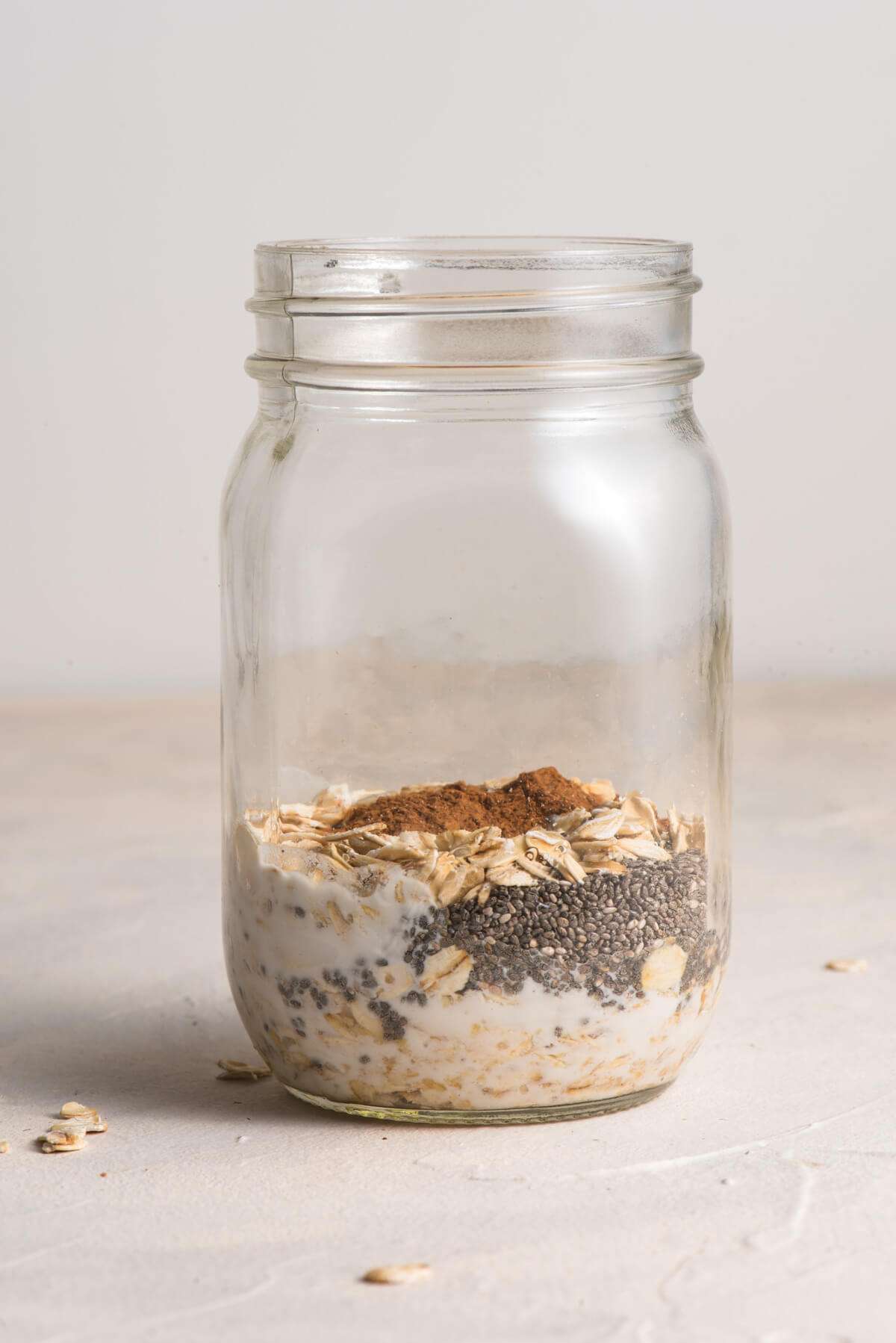 Water: you can use any type of liquid for overnight oats. Liquids with more fat, like milk, add a tad more flavor and thickness. For a thinner consistency add ¼ cup more liquid.
Oats: old fashioned oats work best for these overnight oats. I would not recommend steel cut oats if you plan on eating them the next day as they won't absorb enough water.
Chia seeds: help thicken while adding a boost of fiber, protein, and B vitamins. You can also use ground flax seed or leave these out for thinner oats.
Yogurt: to mimic the thick, creamy texture of overnight oats made with milk. Greek yogurt tends to be thicker, but non-dairy or plant-based yogurts, like these from Siggi's, work just as well! If using flavored yogurt or one with fruit, you can skip the sweetener.
Sweetener: a drizzle of honey, maple syrup, or your favorite sweetener is highly recommended. I always add a sweetener to overnight oats, but since these don't use milk, I would not skip it.
Cinnamon and vanilla: I love adding cinnamon and vanilla to oats for a warm, cozy flavor. Spice things up with a little nutmeg, pumpkin pie, or gingerbread spice!
How To Make
Overnight oats are so easy to make! Simply throw your ingredients in a small jar, pop them in the fridge overnight, add your toppings and breakfast is served. Once you master the basic overnight oats formula, you can customize them for an easy on-the-go breakfast. Here are some tips to help make them your own!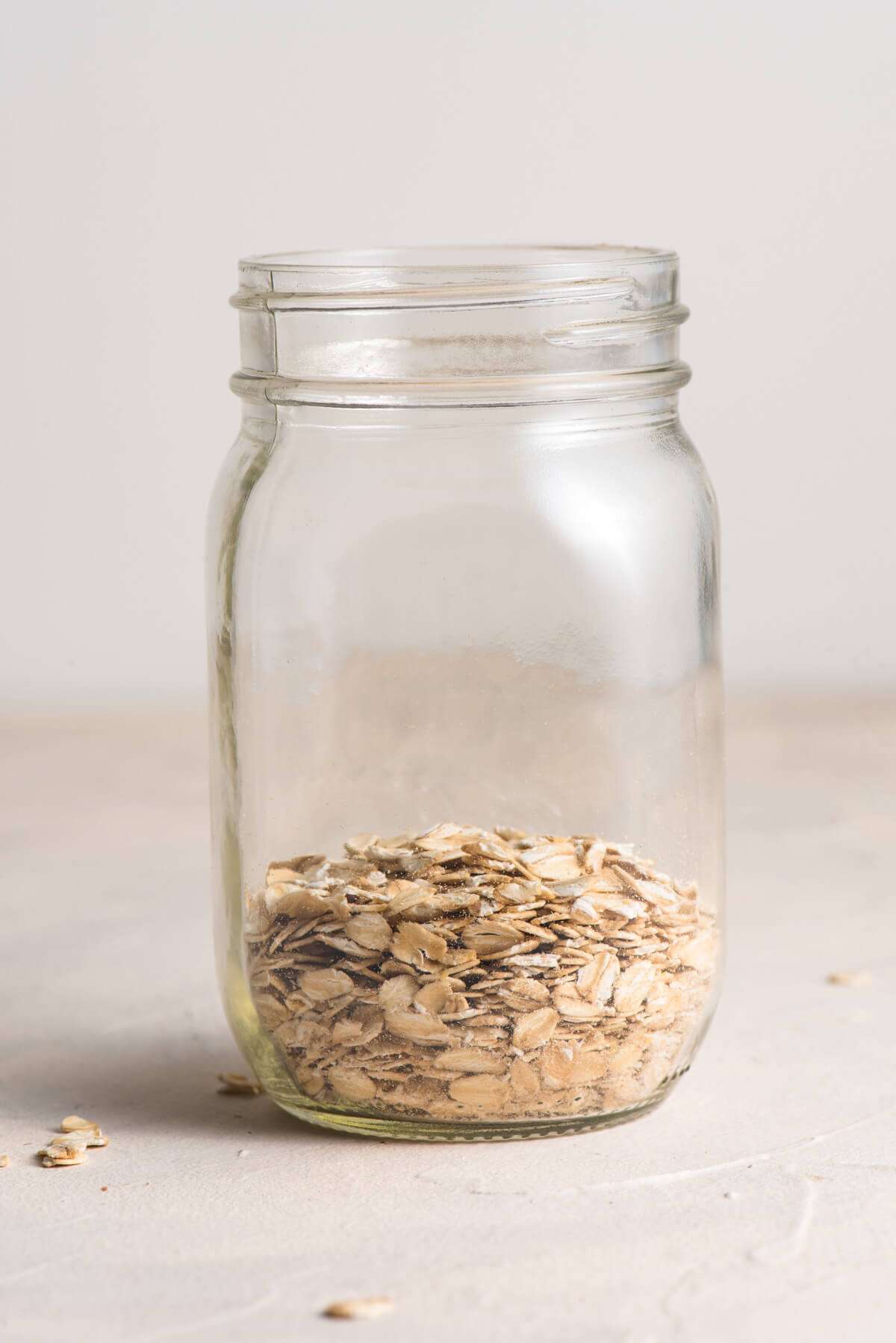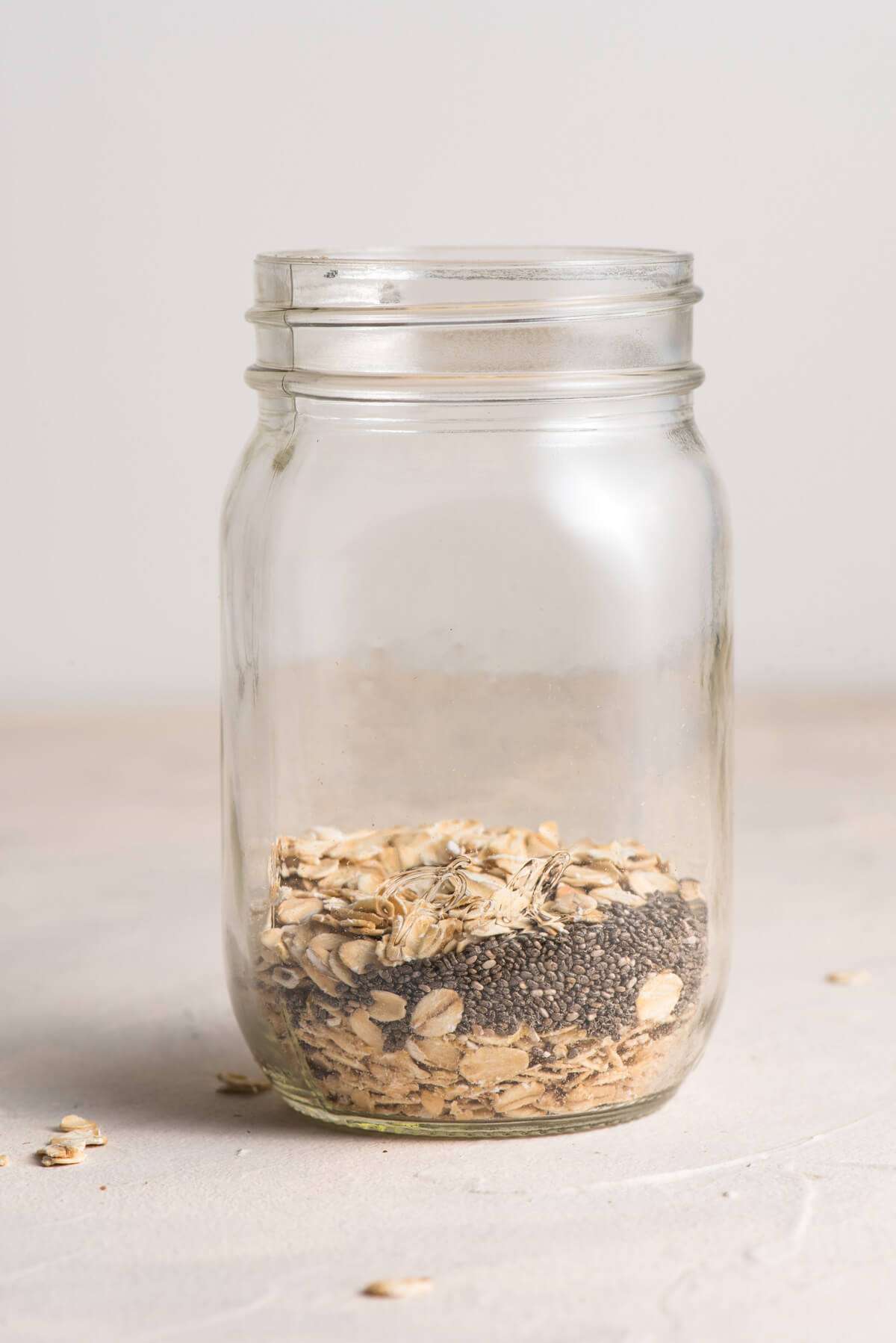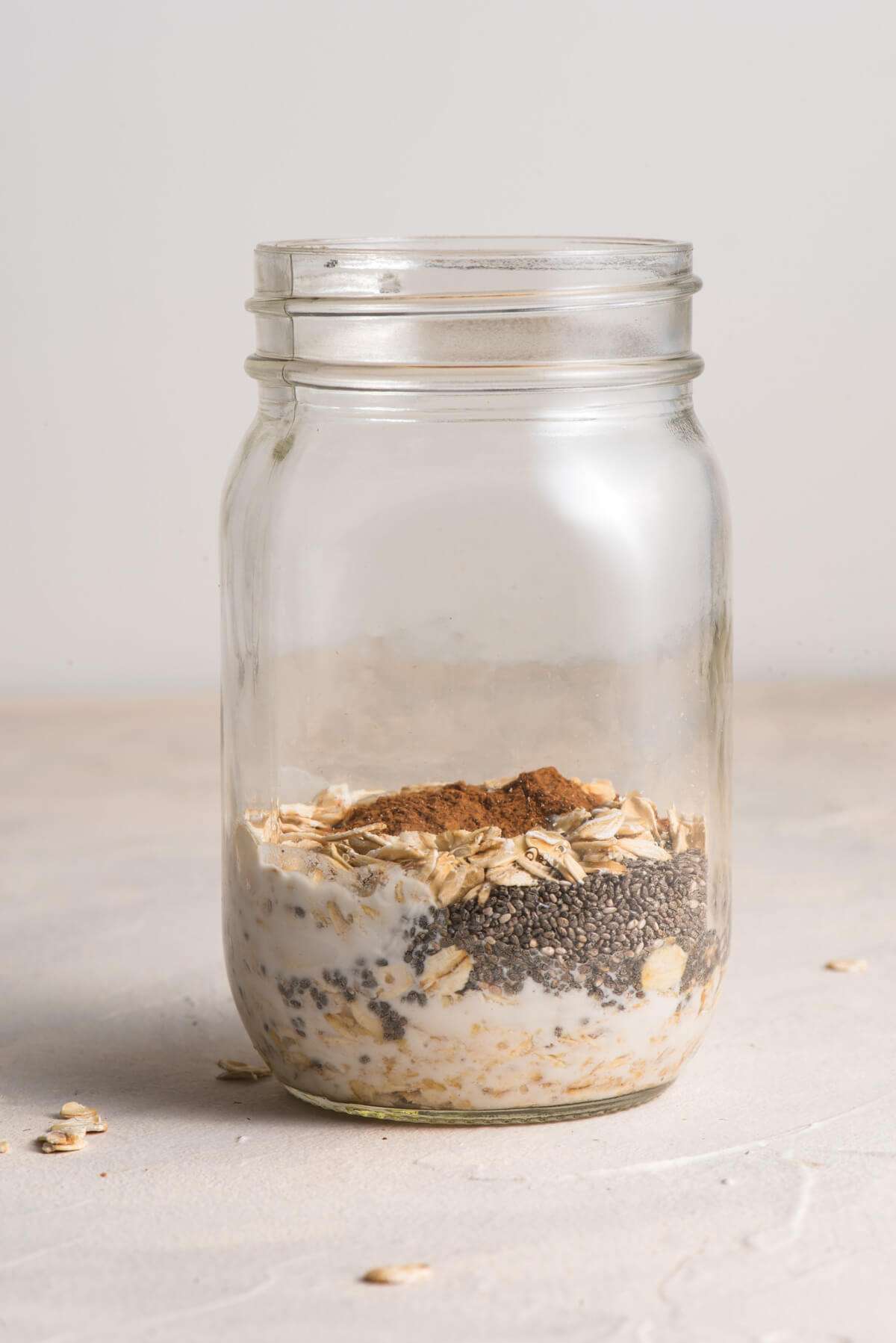 With overnight oats, getting the perfect consistency is key, which means the liquid-oats ratio is important. I've found a 1:1 liquid to oats ratio to be the best, but it really comes down to personal preference. This recipe will leave you with a thick and creamy oatmeal base. Feel free to play with the consistency by adding more or less water.
Pro-tip: Keep your toppings from getting soggy by adding them in the morning (if you like mushy fruit, feel free to let them sit overnight!)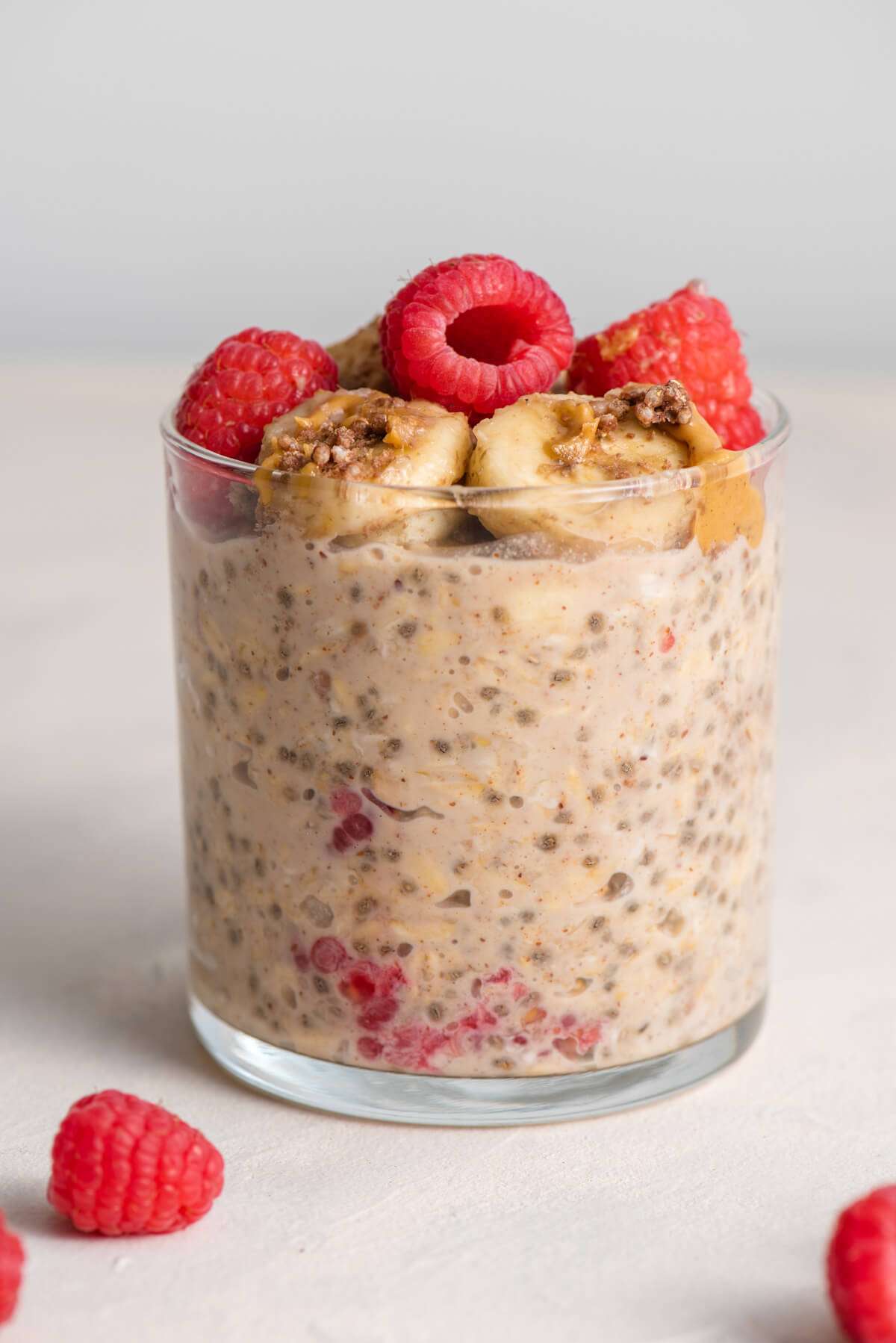 Top Tips
Toppings are a must. Trust me, not only do they add a boost of flavor and nutrition, they're essential for ensuring your breakfast is anything but bland and boring.
Wait to add your toppings. Letting fruit soak with your oats overnight will give you nothing but a mushy mess. Add your toppings when you're ready to eat so they don't get soggy.
The type of oats matters. Rolled or old fashioned oats work best. Use steel cut oats if you don't plan on eating them the next day as they won't absorb enough water overnight. I don't recommend instant or quick oats because they tend to get overly mushy.
Pop them in the microwave. I didn't understand the overnight oats craze until I started warming them up. Something about the cold, creamy texture just wasn't doing it for me. After 20-30 seconds in the microwave, I became obsessed. A little warmth also helped accentuate the flavors.
Toppings
With so many flavor combinations, choosing your toppings for overnight oats can be overwhelming. For a delicious and nutritious breakfast guaranteed to keep you full and satisfied all morning, I always follow this simple formula for toppings:
FRUIT + PROTEIN/FAT + FLAVOR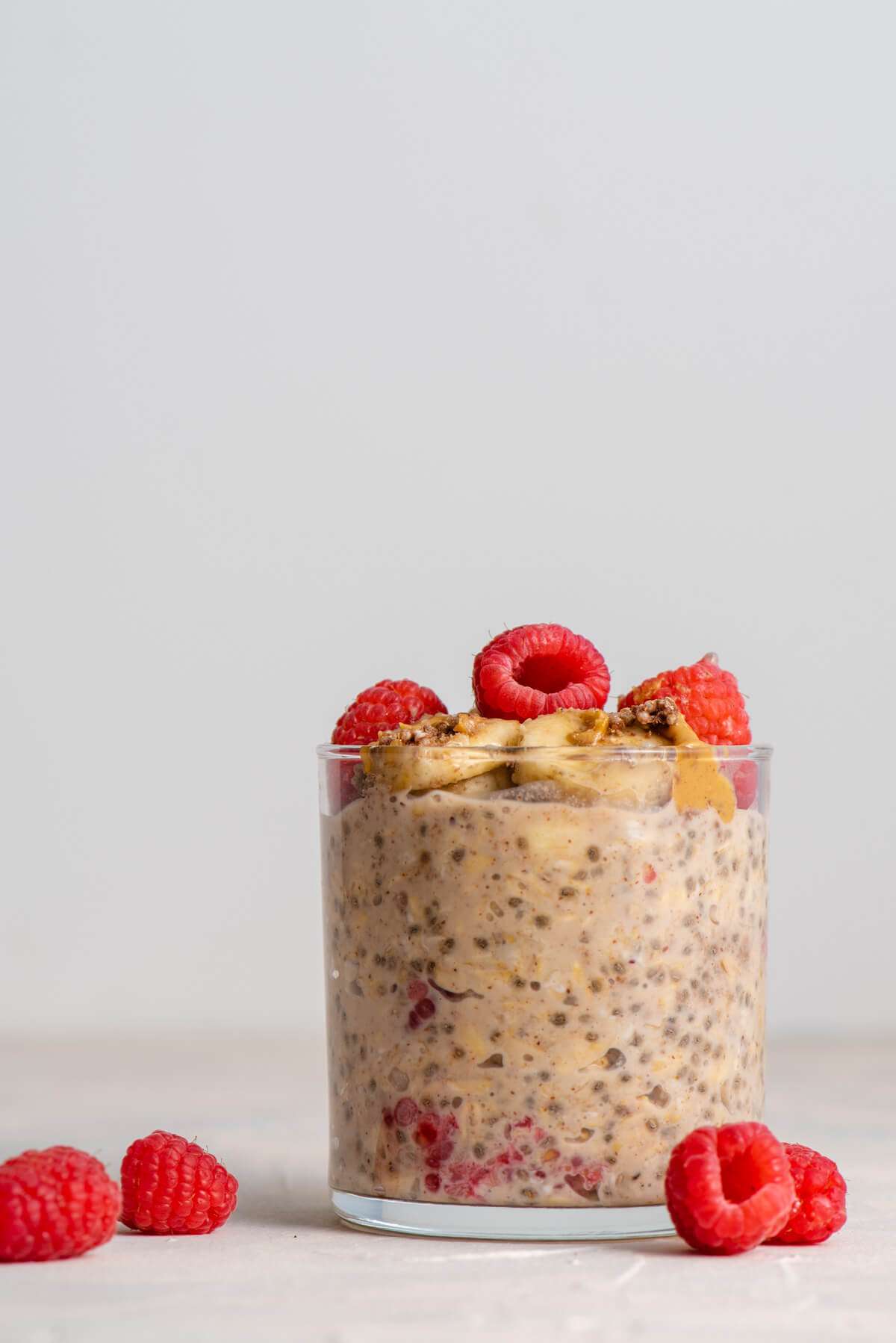 Fresh, Frozen or Dried Fruit
To add even more sweetness and fiber. Mixed berries, apples, or pears make incredible oatmeal toppings. I love to put a spin on the classic peanut butter and banana by adding fresh raspberries or mixing in a handful of raisins for carrot cake oats.
Protein and Fat
A scoop of protein powder, heap of nut butter, or handful of nuts and seeds keeps you fuller, longer and is a great way to add more protein to this healthy breakfast. Sprinkle in some pumpkin or sunflower seeds for a little crunch.
Flavor
Always mix in coconut flakes, cocoa powder, chocolate chips, or extra spices to make your oats anything but bland and boring!
Storage
Overnight oats with water can be refrigerated in a mason jar or air-tight container for up to 4 days.
FAQs
Are overnight oats healthy?
Very! Oats make for a nutritious breakfast filled with soluble fiber and phytochemicals no matter how you cook them. Not only have oats been shown to lower cholesterol, but soaking overnight may also help with digestion.
Do overnight oats taste good with water?
Oats soaked with water tend to have a neutral, bland flavor. But when combined with ingredients like chia seeds, yogurt, and a sweetener, they are just as delicious and creamy as overnight oats with milk.
Can overnight oats be heated?
Absolutely! Microwaving overnight oats for a minute or so and you'll have a nice warm bowl of oatmeal. You can also leave them at room temperature 30 min prior to eating, or microwave 20-30 seconds if you don't like the texture of cold overnight oats.
What liquid can I use for overnight oats?
You can use any liquid for overnight oats! Liquids with more fat, like milk, add a tad more flavor and thickness than overnight oats made with water or non-dairy alternatives. If you prefer thinner oats add ¼ cup more liquid.
Is soaking oats necessary?
Soaking oats overnight helps break down their starches and reduces the phytic acid, making them more digestible. Not only does it make the oats taste better, but soaking also helps your body absorb nutrients more easily.
More Breakfast Recipes
Ingredients
OVERNIGHT OATS BASE
½

cup

old fashioned oats

½

cup

water

1 ½

teaspoon

chia seeds

¼

cup

Greek yogurt

1

tablespoon

honey or maple syrup

1

teaspoon

ground cinnamon

Splash of vanilla extract
RASPBERRY BANANA
raspberries

banana

1

tablespoon

peanut butter

Milk Chocolate Undercover Quinoa Crumbs
LEMON BLUEBERRY
blueberries

1

tablespoon

vanilla almond butter

1

teaspoon

lemon zest

Squeeze of lemon juice
CHOCOLATE COCONUT
1

tablespoon

coconut flakes

1

tablespoon

chocolate chips

1

tablespoon

chocolate hazelnut butter
Instructions
In a mason jar or air tight container, add a layer of oats. Pour in water, yogurt and chia seeds, stir until oats are soaked. Add sweetener, cinnamon, and vanilla.

Cover and refrigerate at least 8 hours or overnight. Add toppings right before eating and enjoy!