Here's the easiest way to make perfect over medium eggs where the yolk is jammy and just barely runny.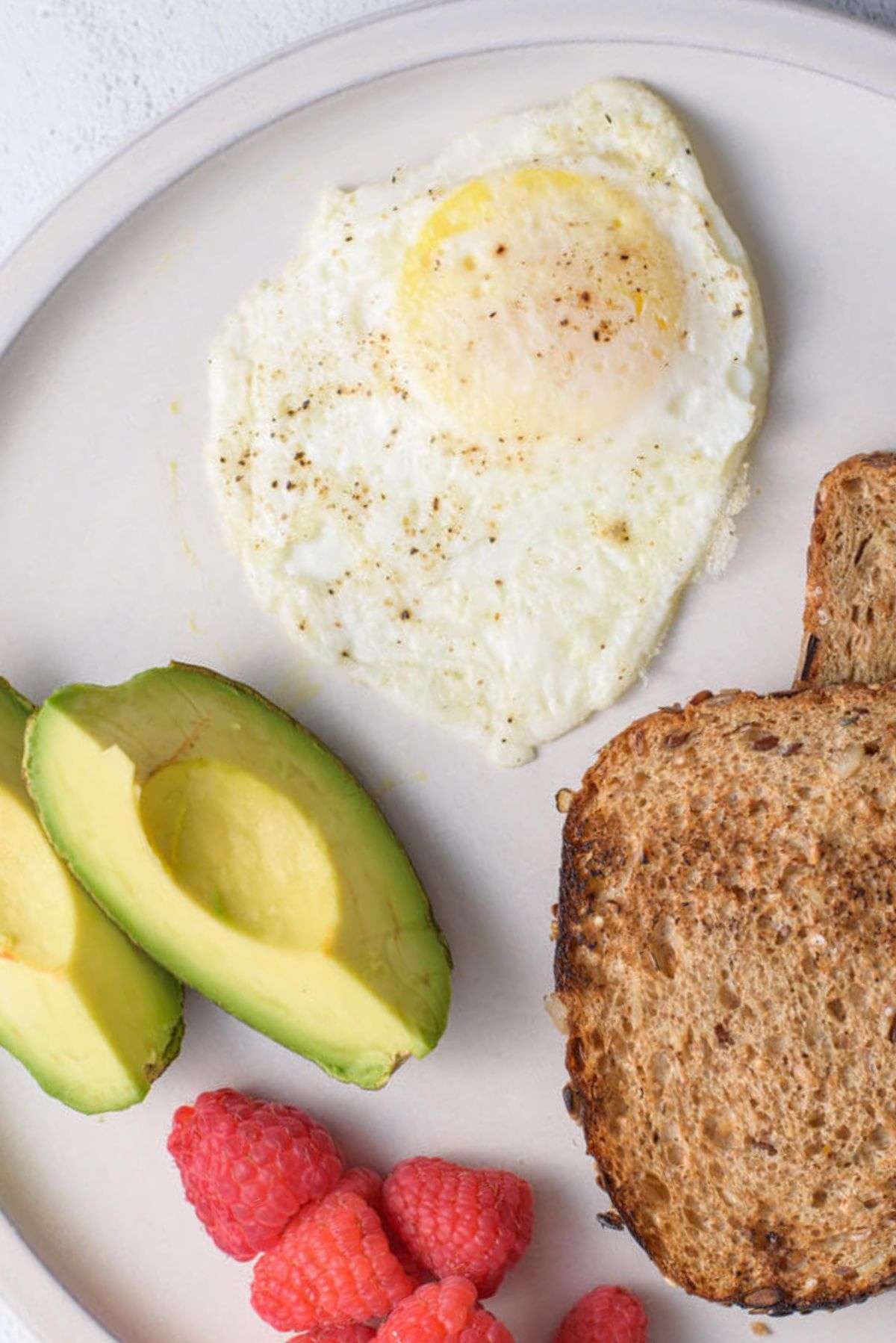 Want the perfect eggs for breakfast, without the runny yolks? Try these easy over medium eggs! Follow these step-by-step instructions and you'll have perfectly cooked over medium eggs every single time! I'm talking jammy yolk and firm egg whites.
And if jammy or runny yolks aren't your thing, these over hard eggs are just what you need.
Jump to:
What You Need
The perfect over medium eggs start with quality ingredients and the right pan. Here's what to know before you start:
Fresh eggs are best: The yolks of fresh eggs won't separate when they hit the pan. As an egg ages, the whites separate and can be a bit of a challenge. You can use a spatula to push them back, but fresh eggs are easier to work with.
Use a non-stick or cast iron skillet: The right skillet is important for sliding out after cooking. Non-stick or cast iron skillets are best for cooking over medium eggs.
Ingredients
Eggs: the fresher the better. Just be ready to push the egg whites back in place if using an older egg.
Butter: eggs cooked in butter have the best flavor. It also creates a non-stick coating that makes cooking eggs a breeze (not to mention delicious).
Salt and pepper: a dash of kosher salt and pepper enhances the flavor but keeps it neutral so you can use these over medium eggs for just about anything.
How To Make Over Medium Eggs
Medium low heat, a little patience, and the right skillet will give you perfect over medium eggs, every time.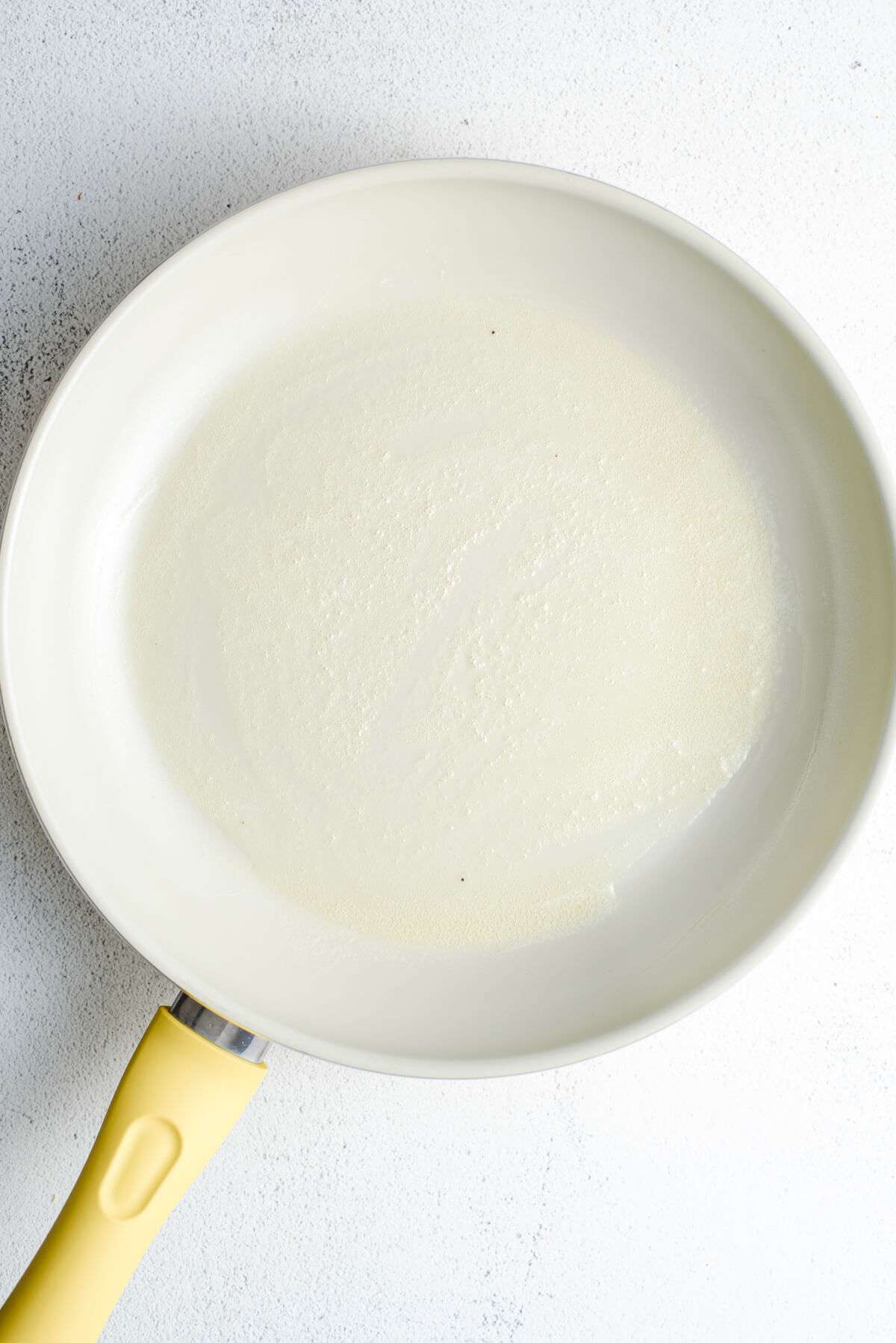 Heat the butter over medium to low heat until it begins to foam.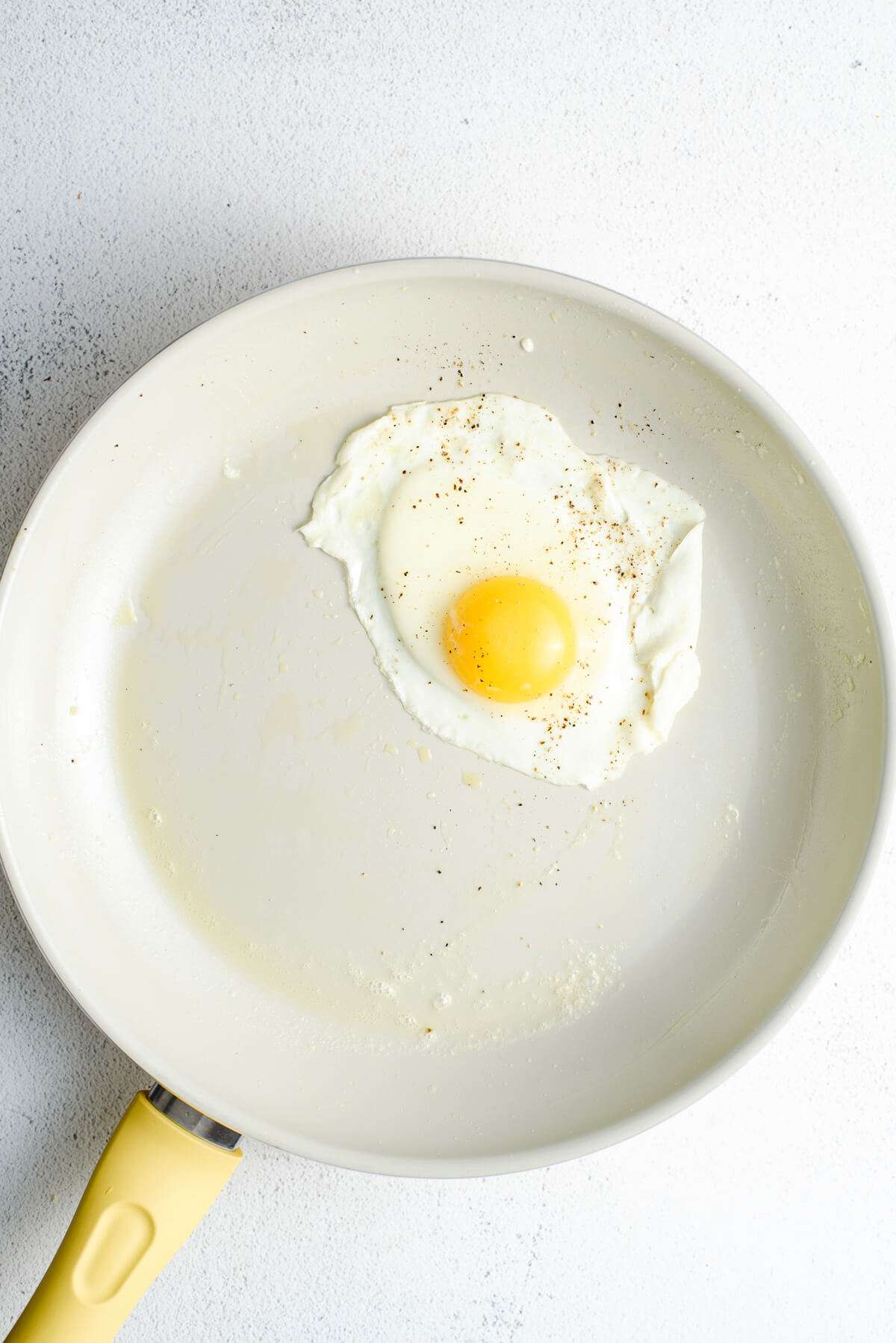 Crack 1-2 eggs in the skillet and season with salt and pepper. Cook for 2 to 3 minutes until the whites are firm but the yolk is still runny.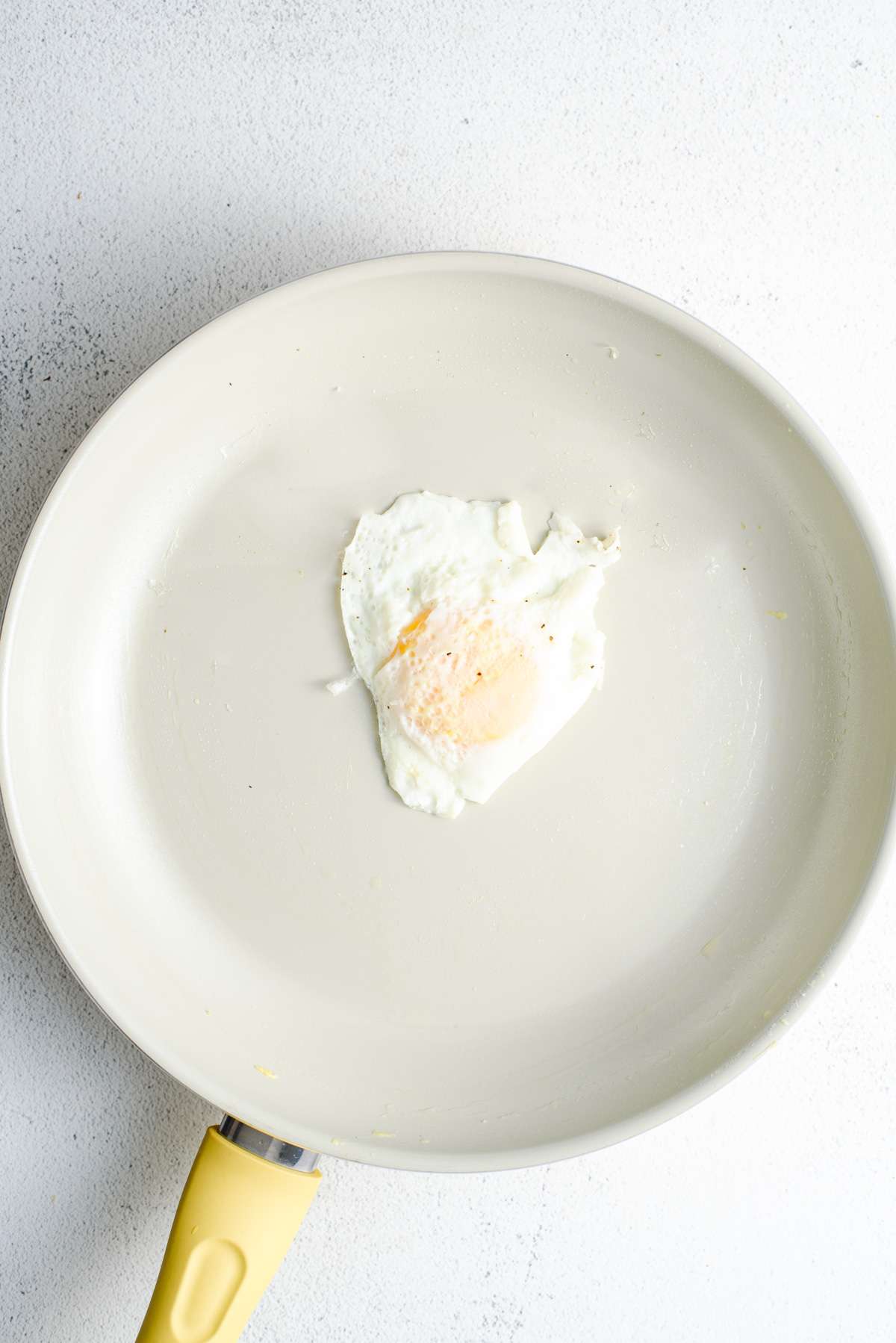 Flip and cook 1 minute. The yolk should be jammy and just a little runny, but shouldn't run out over the plate.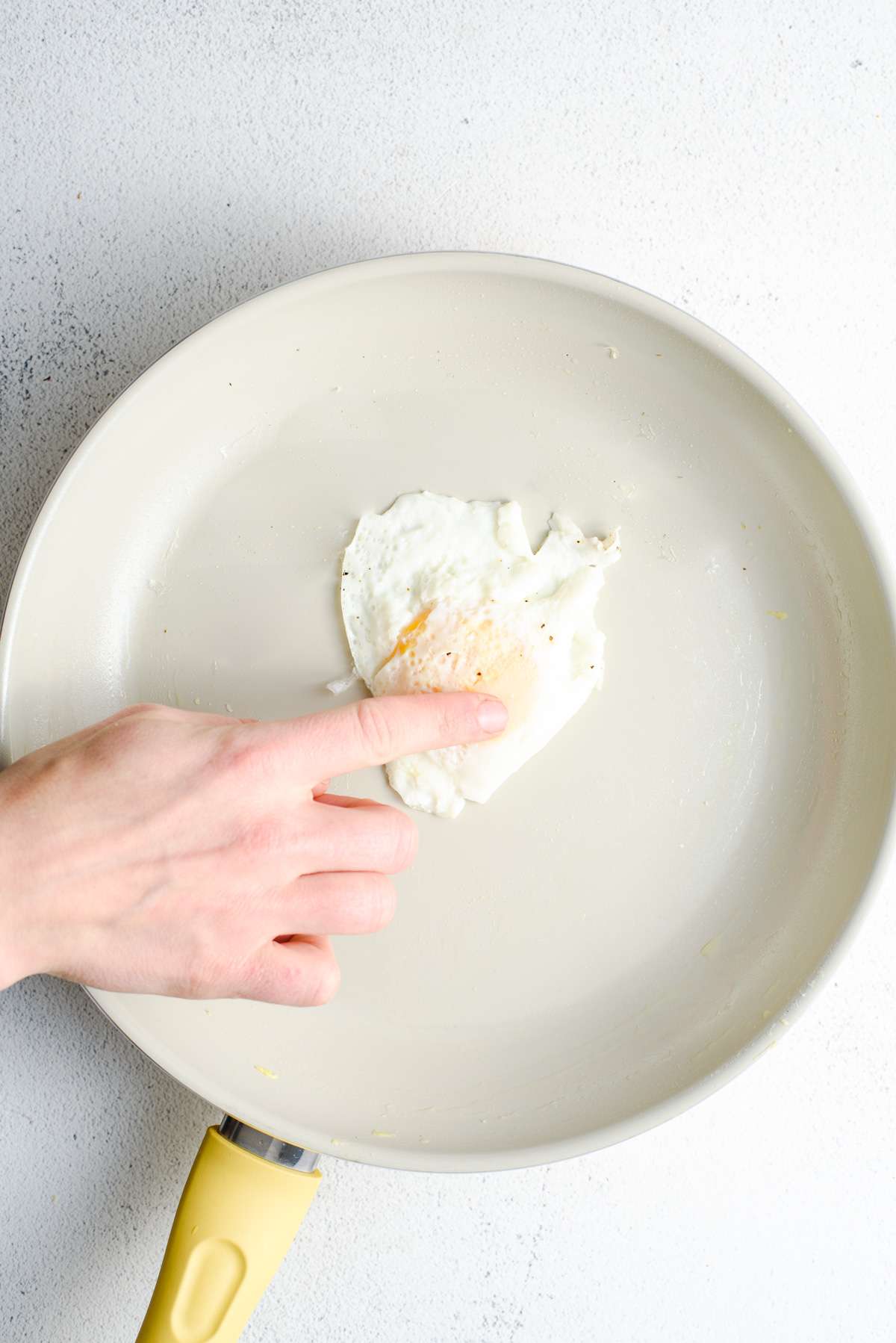 Check to see if they are done by gently pressing the yolk.
Pssst!! Did you know you can freeze eggs and scramble them later? 
Sounds odd, but you can lightly whisk eggs, freeze them in cubes, and use for breakfasts over the next few months!
How To Tell When They're Done
Since you can't cut into your eggs while they're cooking, use your finger to gently touch the top of the yolk. You'll know an over medium egg is done cooking when the yolk has a little give to it, but doesn't feel hard. If it feels very liquid, keep cooking!
It's not a perfect science and takes a little practice, but remember, no one knows your stove and pans like you do. So use your best judgement and adjust your cook times if needed.
Once you've cooked them to perfection, serve along side pancakes, in a sandwich, over pesto roasted potatoes, or a savory oatmeal.
Should You Fry Eggs In Butter Or Oil?
Different fats will produce different flavors and textures in your fried eggs, but the type you use really comes down to personal preference.
Butter: butter adds a TON of flavor and creates deliciously brown edges. Bonus: you get an even more nutty flavor when the butter itself browns in the skillet.
Olive Oil: olive oil is great if you want a more neutral flavor or love those delicately crispy deep-fried edges on the egg whites.
Flavored oils or sauces: frying eggs in things like pesto have become viral trends over the past few years and it can be a fun alternative to the usual. Most oil-based condiments will probably work, just make sure to fry at a lower heat in order to prevent burning.
Troubleshooting Over Medium Eggs
Runny egg whites: If your egg runs all over the skillet either your skillet wasn't hot enough before adding the egg, your egg is not fresh, or both!
Burned edges with uncooked egg whites: If the bottom and edges of your eggs get too brown before the whites are cooked through, the skillet is too hot. Use lower heat or add a lid to cook from the top down at the same time. For a last minute save, flip the egg and cook briefly on the second side to finish cooking the whites without continuing to brown the bottom.
Broken yolk after flipping: Be gentle! An aggressive flip can cause the yolk to break when you flip the egg. Trying to flip too soon can also lead to a broken yolk. It's not the end of the world for over medium eggs, but
Be patient: keep it low and slow, set a timer and relax. Speeding up the process will only result in overcooked eggs!
Check the edges: lift the edges with the spatula every now and then to make sure they aren't browning.
Other Ways To Cook Eggs
Eggs are one of the most affordable high-quality proteins. Here are some of the most popular ways to cook up this tasty protein for an easy breakfast with 7 grams of protein, a dose of vitamin D, and vitamin B12.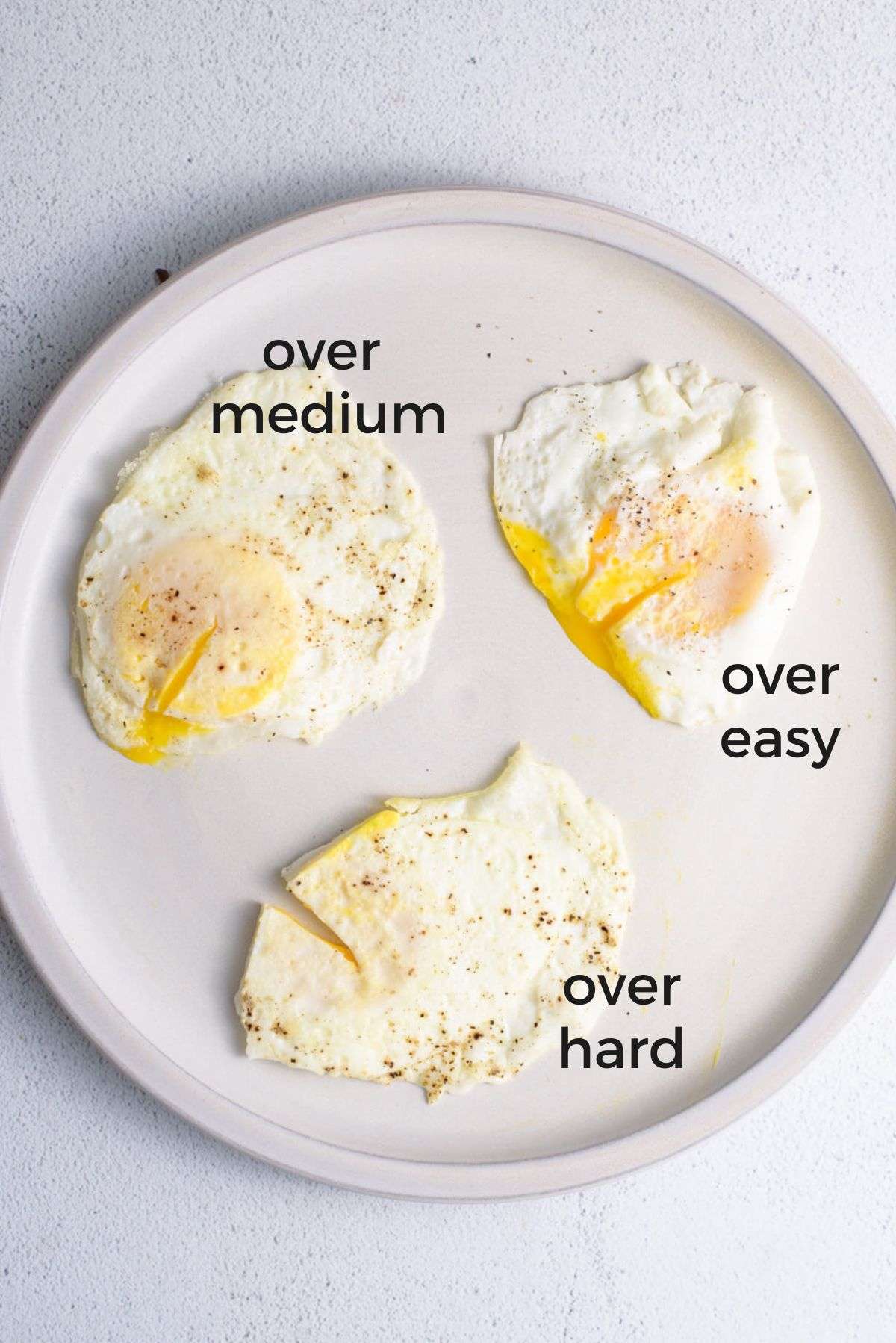 Sunny Side Up: these are cooked on one side until the whites are set, but the yolk is still liquid.
Over Easy: are like sunny side up eggs, but are flipped over briefly to sear the top of the eggs while keeping the yolk runny.
Over Medium: are flipped and cooked until the yolk is jammy and egg whites are firm.
Over Hard: are cooked on each side until the yolk is firm and not runny.
FAQs
What are over medium eggs?
Over medium eggs are flipped during cooking so the yolk is jammy and egg whites are firm.
How long do you cook eggs for over medium?
It takes about 5-6 minutes to cook over medium eggs.
Can you reheat over medium eggs?
Over medium eggs are best enjoyed immediately, but you can store leftovers in the refrigerator for up to 3 days. To reheat, cover them on a plate and microwave on a low setting so they don't overcook.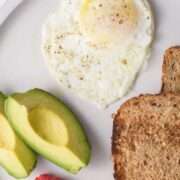 Over Medium Eggs
Here's how to make perfectly cooked over medium eggs so the yolk is jammy and barely runny.
Print
Pin
Rate
Ingredients
½

tablespoon

butter

2

eggs

Kosher salt and pepper
Instructions
In a large cast iron or non-stick skillet, melt butter over medium low heat until starting to foam.

Crack the eggs onto the skillet and season with salt and pepper. Cook for 2-3 minutes, until the white is firm but the yolk is still runny. Flip and cook 1 minute until the yolk is jammy and just barely runny (gently press the yolk with your finger to assess doneness).