Frozen vegetables are one of the most economical, practical ways to add more veggies to your diet. Here's how to cook frozen vegetables so they are anything but bland!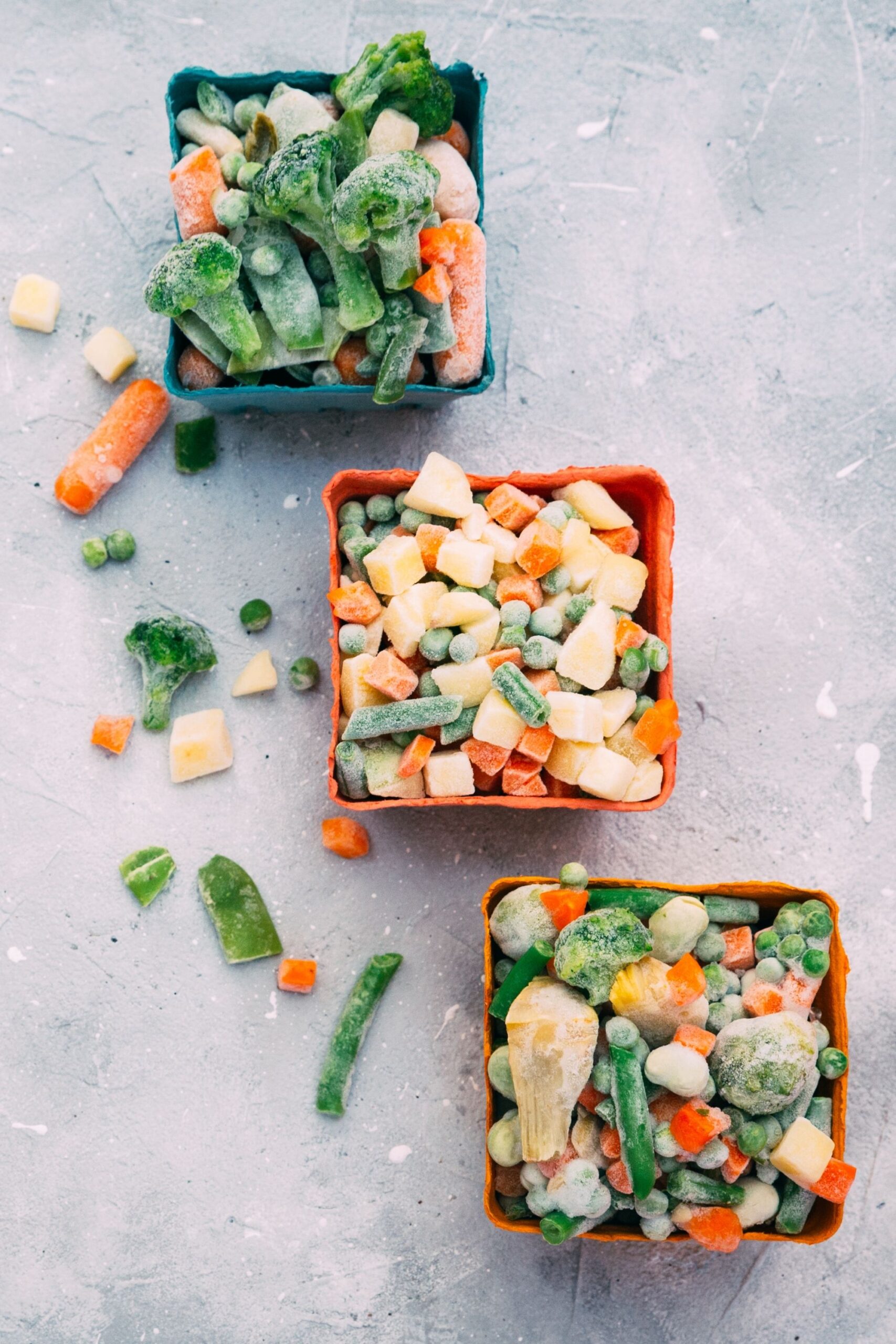 There's no denying the convenience and affordability of frozen vegetables, especially right now. But, growing up, I didn't have a very high opinion of them. That's because the ones I ate had been cooked in the microwave until mushy and limp, which is a shame because frozen vegetables can be really delicious. But when you know how to cook frozen vegetables the right way, it makes all the difference!
So put on a sweater, head to the freezer aisle, and discover the variety of produce available all year long. Here's how to get the most out of frozen vegetables (beyond smoothies), like these delicious air fryer brussel sprouts.
BONUS: download your How to Cook Frozen Veggies That Don't Suck cheat sheet at the end!
Jump to:
Benefits of Frozen Vegetables
Do not mistake the plastic packaging as a sign of less healthful ingredients. Despite what you may have heard, frozen produce is just as good as fresh. Here are a few reasons to stock up on your next shopping trip.
Just as nutritious: Most frozen veggies are picked at their peak ripeness, when they are most nutrient-packed. Flash-freezing allows them to retain nutrients and quality longer than fresh.
Time savers: Because frozen produce is prep-free, reaching for it can save you a ton of time, allowing you to make healthy dishes at home rather than opting for takeout.
Budget-friendly: frozen typically costs half the price and has a longer shelf-life so they are less likely to go bad if you forget about them, unlike your fresh veggies.
Versatile: Keep your freezer stocked with a variety of frozen produce all year round and use them for smoothies, stir-frys, grain bowls, or a simple roasted side dish.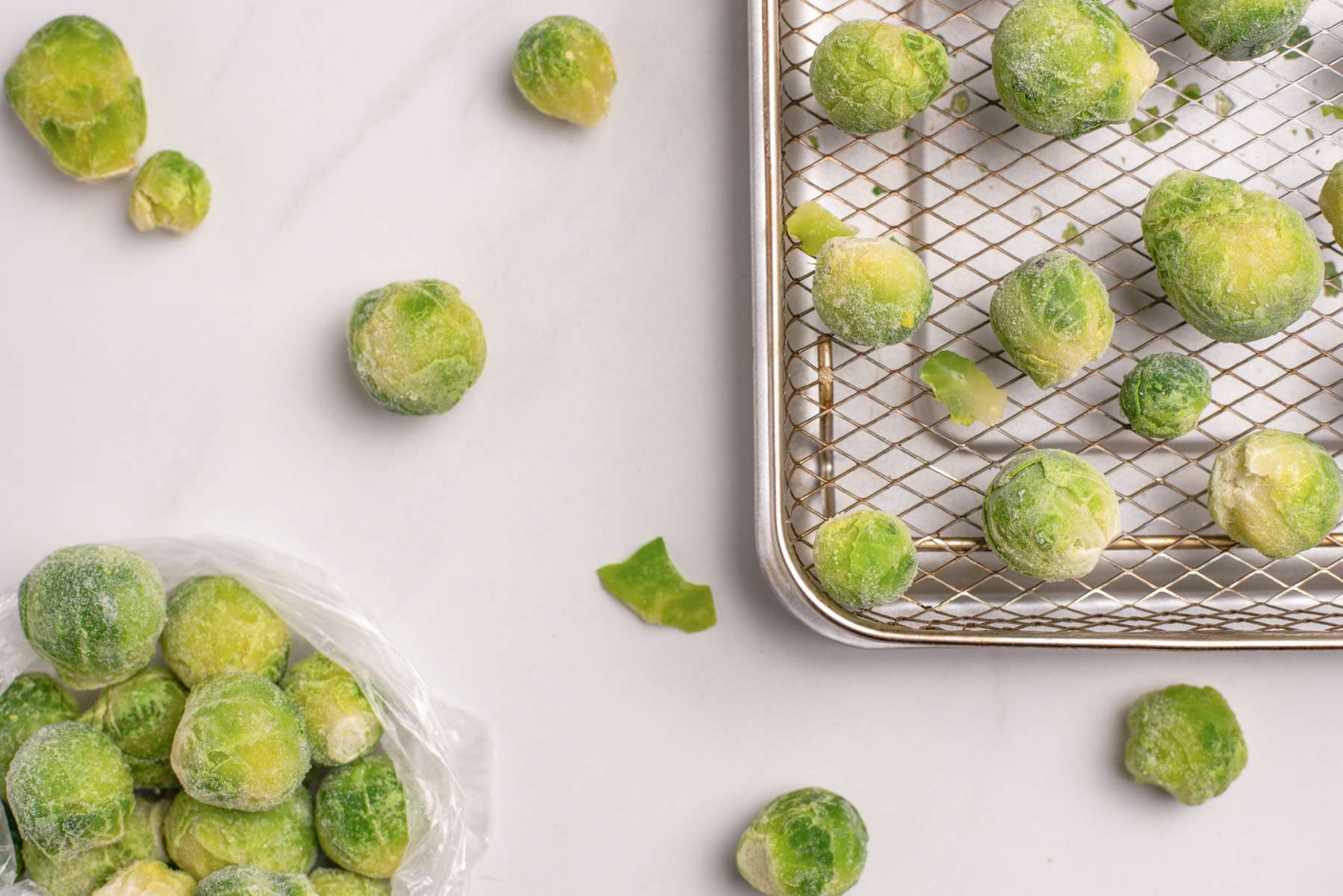 How To Make Frozen Vegetables Taste Good
Let's be honest, they can be kind of bland, so here's are some simple do's and don'ts for making frozen veggies taste better. Use these tips to incorporate almost any veggie INTO your meal or make a great-tasting, budget-friendly side dish.
DON'T boil, steam, or microwave: This is when you end up with flavorless, mushy vegetables. Sauté, roast, air fry, or grill for better texture and taste.
DON'T thaw: It's easy to use frozen vegetables in things like stir-fry, casseroles, pastas and more. They cook so quickly that keeping them frozen until adding them to your dish will help guard them from turning to mush in your mouth.
DO consider their texture: Veggies with a softer texture (peppers, onions, zucchini, spinach) can be mixed into soups, stew, casseroles, and even smoothies! Harder textures, like vegetable medleys, are perfect for sautéing and stir-frys.
DO add flavor: Season with herbs and spices or mix into sauces and dressings.
DO use salt, fat, acid: This applies to everything you cook, but super important with frozen veggies! Adding these 3 things can get anything to taste good. Use a little salt + fat (oils, nuts, cheese) + acid (vinegar or lemon).
How To Cook Frozen Vegetables
There are a multiple methods for cooking frozen vegetables, and one to avoid: boiling. Boiling an already blanched frozen veggie will send it on the fast track to mushy town. Here are some of the best ways to cook frozen vegetables.
Sautéed
This method is great for soft textured or smaller vegetables like peas, carrots, corn, or stir-fry blends.
For stovetop cooking, a cast-iron skillet will be your best chance at introducing some crispiness. Start by heating a oil in the skillet over medium-high heat. Add frozen veggies and cook until just tender, 5 to 7 minutes. Stirring only occasionally to ensure they make sufficient surface contact with the pan.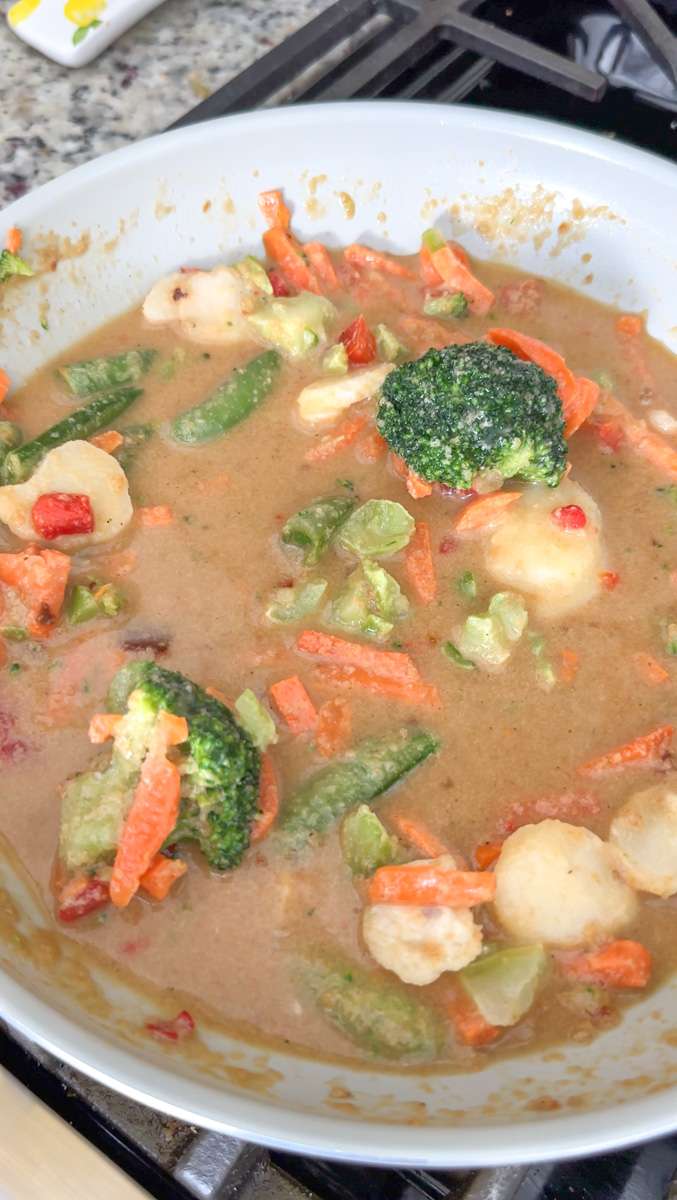 Roasted
Larger veggies like broccoli, Brussels sprouts, cauliflower, and green beans are perfect for roasting.
Start by preheating a greased sheet pan in the oven at 450°F. (The high heat helps to crisp the veggies rather than steam.) Once the pan is hot, spread frozen veggies on the hot baking sheet. Roast until crisp-tender. Cooking time varies depending on the veggie, so check for doneness after 15 minutes, but know it could take up to 30 minutes.
Air Fryer
Similar to oven roasting, air frying gives you a crispy texture in half the time. And the same rules apply: use a high temperature (400 degrees), preheat the oven, and use fat. I like to season before air frying, but you can add extra flavor at the middle or end. Depending on the vegetable, it should take 10-15 minutes to cook. This is one of our favorite ways to cook frozen Brussels sprouts, French fries, or tater tots!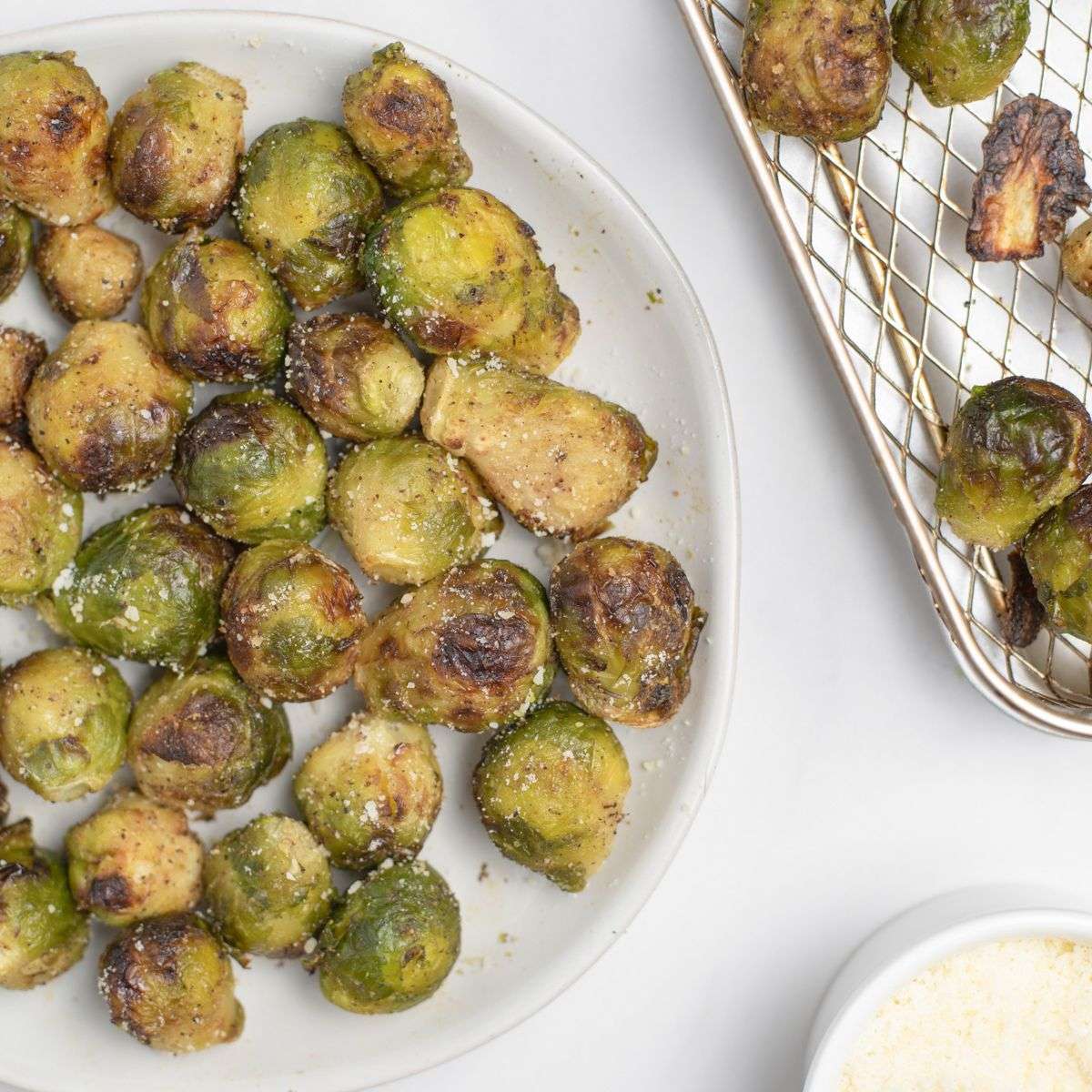 Steamed
Steaming frozen veggies is no different from steaming fresh — it just takes half the time. The best way to steam frozen vegetables is to bust out the stove-top steamer basket, boil a pot of water, and cook for 3-5 minutes.
Microwave
Nothing beats the convenience of steam in bag vegetables, but the microwave isn't going to do frozen veggies any favors in terms of texture. When you're crunched for time make the most out of microwaving by placing the vegetables in a bowl with a little water. Cook at 60 second intervals, stirring between each, until they're warmed through. Just be sure to season the heck out of them.
How To Use Frozen Vegetables
What's your favorite way to cook frozen vegetables?
Let us know in the comments!
Frozen Veggie Guide
Learn how to make frozen veggies that don't suck