Get ready to savor the flavors of spring with this guide to asparagus season! This delicious veggie is at its peak during the spring months, but you can enjoy it all year round. Here's everything you didn't know you needed to know about asparagus.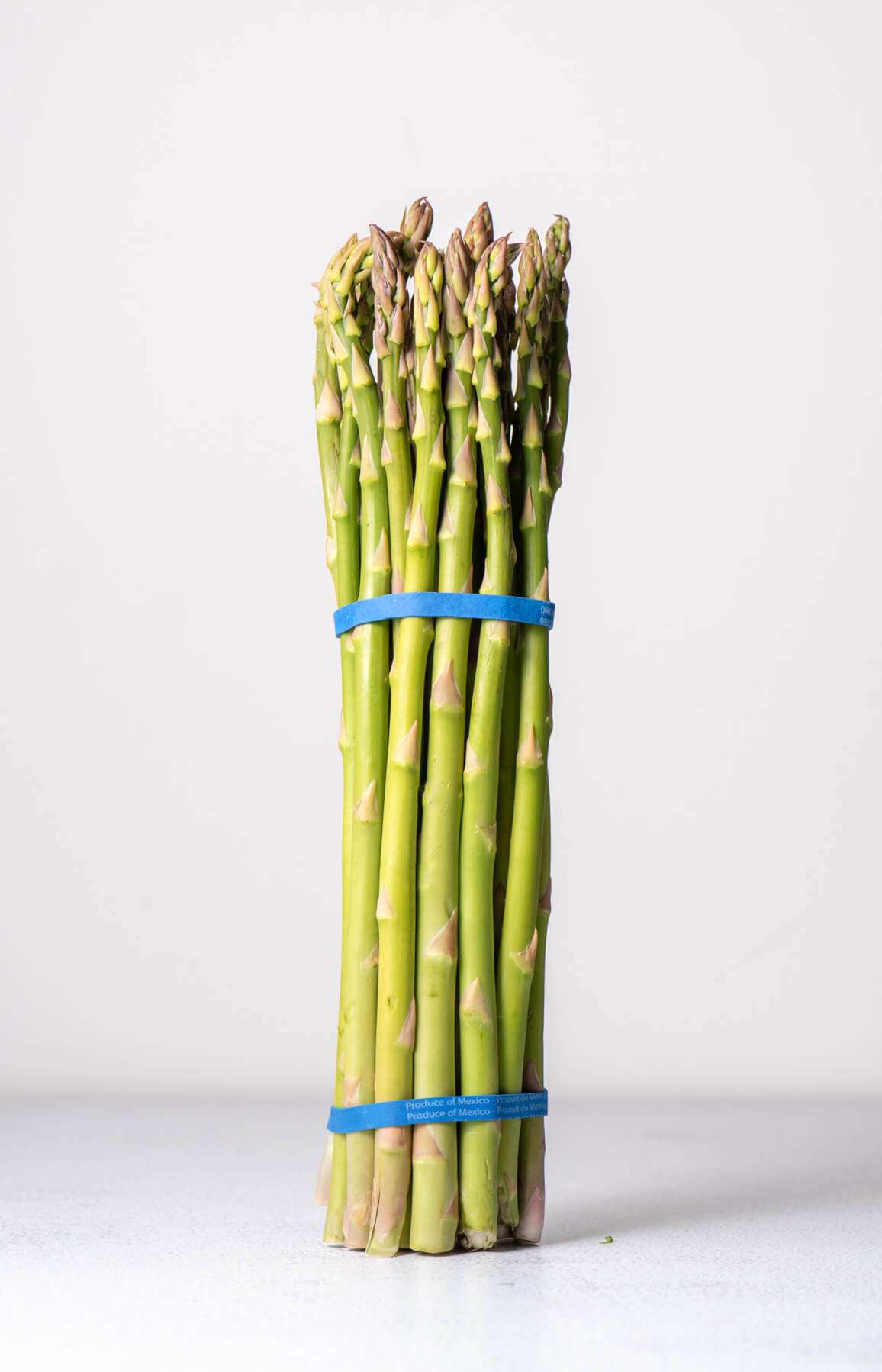 If you're as excited about asparagus season as I am, you will love this guide. Discover when asparagus is at its peak and tips for selecting, storing, and preparing this flavorful, nutritious veggie.
This fibrous vegetable cooks up in minutes for a nutritious grilled side dish and pairs well with lots of other spring vegetables and flavors— think peas, garlic and potatoes.
Jump to:
When Is Asparagus Season?
Asparagus is harvested from late February to June. While widely available most of the year, its peak season is from April to May. By the end of June, asparagus is at the end of its season in most locations. When it's not in season, you will likely find the green asparagus at the grocery store.
How To Select Asparagus
When shopping for asparagus, it's important to look for bright green stalks that are firm and straight. Asparagus with wilted tips or yellowed stalks is past its prime. The head/tip (the part that looks like a mini tree) is the best part to eat. It's tender and juicy and very different from the bottom part of the spear, which you inevitably cut off because of it's woodiness.
Wondering how much asparagus to buy for your next meal? One pound of asparagus usually has 18 to 24 spears, about four servings.
Varieties
Asparagus comes in different varieties, each with its own unique characteristics. It also comes in different grades; jumbo, standard, colossal, small, and large.
Green Asparagus: the most common and what you'll typically find in grocery stores. It has a grassy, sweet and slightly bitter taste that makes it incredibly versatile.
White Asparagus: grown underground, which prevents it from turning green and gives it a milder, nuttier flavor. It's very expensive and very popular in Europe.
Purple Asparagus: a low fiber count makes it slightly sweeter and more tender. The vibrant purple color comes from its high anthocyanin content and makes it a beautiful addition to salads.
How To Store Asparagus
If you're not planning to use it right away, store the asparagus the same way you would fresh flowers. Trim the bottoms and place upright in a glass of water, cover with a plastic bag and refrigerate for up to 4 days. The key to fresh asparagus is clean, fresh water so be sure to change it when it turns cloudy.
How To Prepare
Asparagus is a versatile veggie and super easy to prep! Start by trimming the tough ends by snapping or using a knife. Once trimmed, it's ready to be grilled, roasted, sautéed, steamed, or boiled.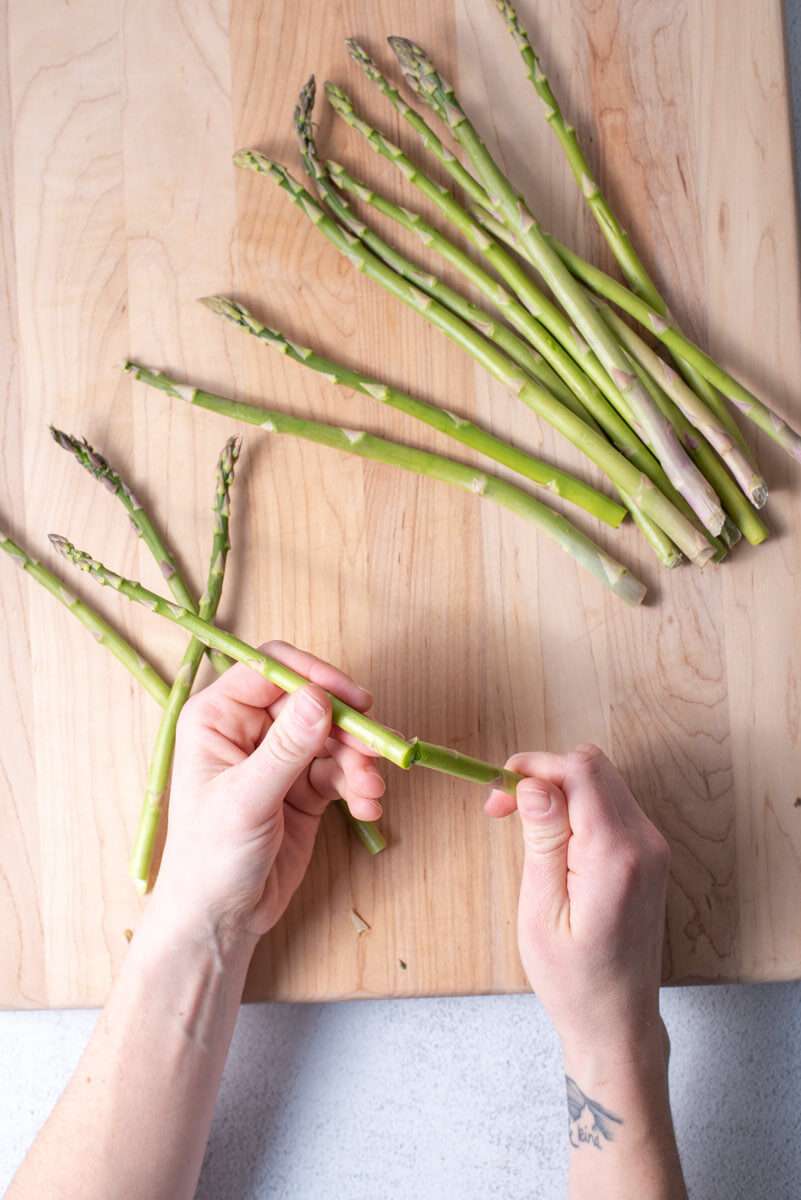 To snap, hold both ends and bend until you hear the spears snap.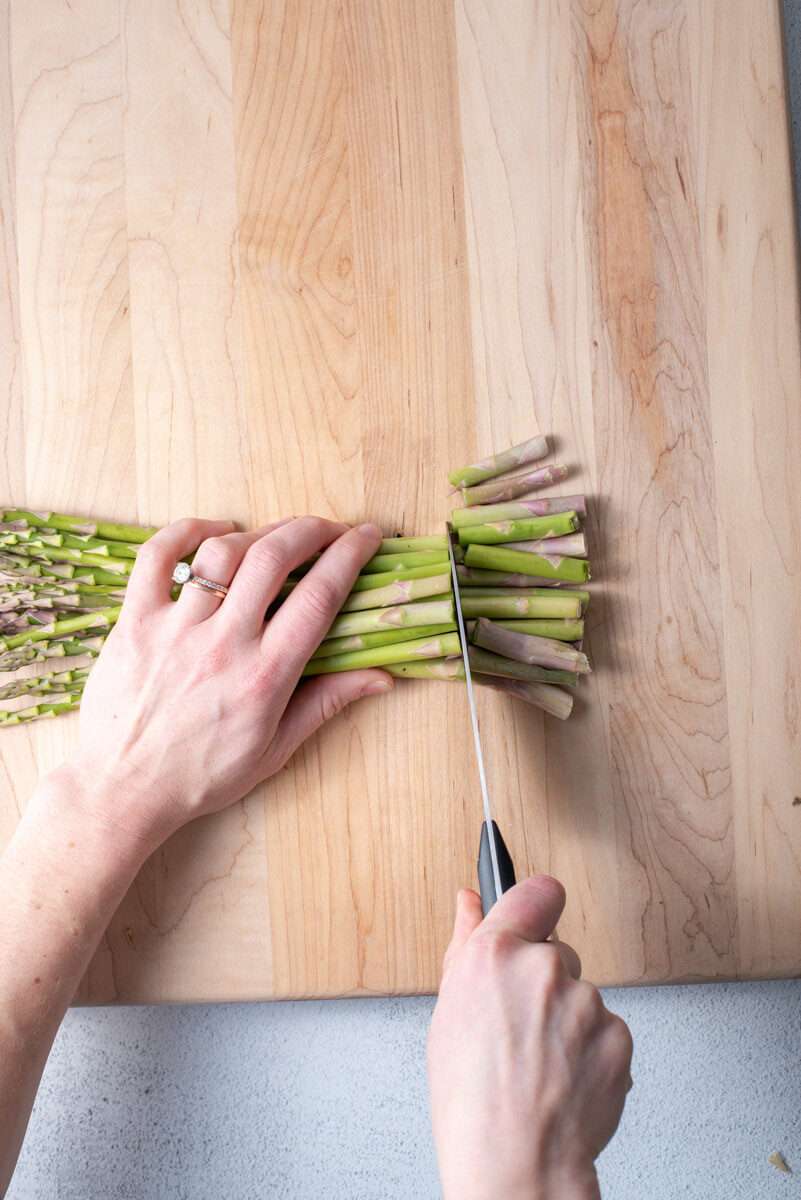 If using a knife, cut about 1 inch off the bottom.
Prep tip: When choosing a cooking method, consider the thickness of the stalks. Thin asparagus is best for quick cooking methods like sautéing, while thick spears are better for grilling or roasting.
Grilled Asparagus
This is hands down my FAVORITE way to cook asparagus. We probably have it 3 days a week because it's ridiculously easy to make and undeniably tasty. Just toss with olive oil and season with salt and pepper. Then grill for 5-7 minutes over medium-high heat. You can place the asparagus directly on the grill, although you might lose some spears along the way. If you haven't perfected the grill to plate transfer, grill the spears on an open sheet of aluminum foil or place them in foil packs.
Roasted Asparagus
Toss with garlic, parmesan, and lemony breadcrumbs and spread on a baking sheet. Roast at 450°F for 8-10 minutes, depending on the thickness, or cook until tender.
Raw Asparagus
Yes, you can eat asparagus raw! Peel or thinly slice fresh asparagus and add to a toasted pine nut arugula salad or serve whole spears alongside your favorite dip.
Sautéed Asparagus
Heat a little oil or butter in a pan, add whole asparagus spears and sauté 3-4 minutes. You can also cut the asparagus into 1 inch pieces for stir-frys and cook for 3 minutes.
Steamed Asparagus
Lay asparagus spears in a steamer basket, cover, and steam for 5-8 minutes. You can also tie in a bunch, stand upright in a pot of boiling water, cover and steam. The bottom will boil but the tips will steam.
How To Season Asparagus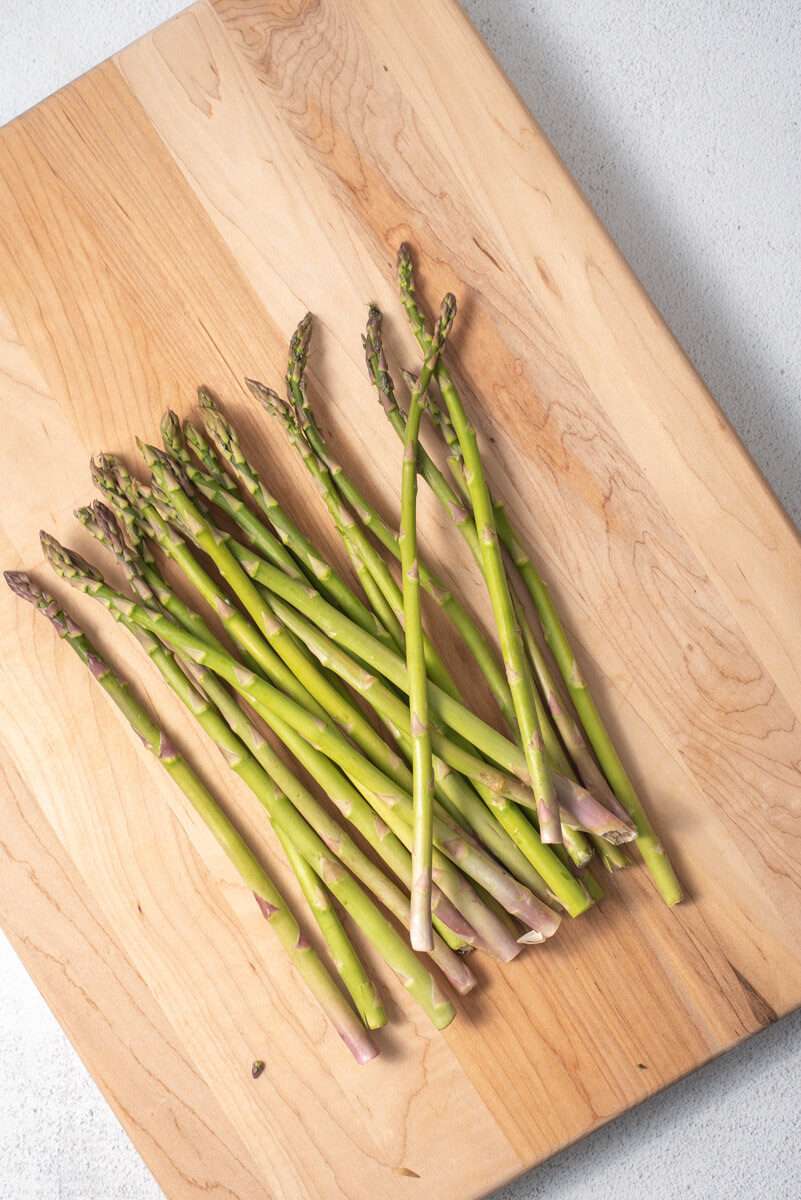 Purists enjoy their asparagus with nothing more than a drizzle of good-quality olive oil, but you can season asparagus with just about anything. Try some of these in your next asparagus dish!
Lemon zest and/or lemon wedges
Sprinkle with grated Parmesan
Handful of fresh mint or parsley
Dash of red pepper flakes
Garlic butter or olive oil
Drizzle with balsamic reduction or hollandaise sauce
Toasted sliced almonds
Pair It With
These are my favorite dishes to serve with asparagus: