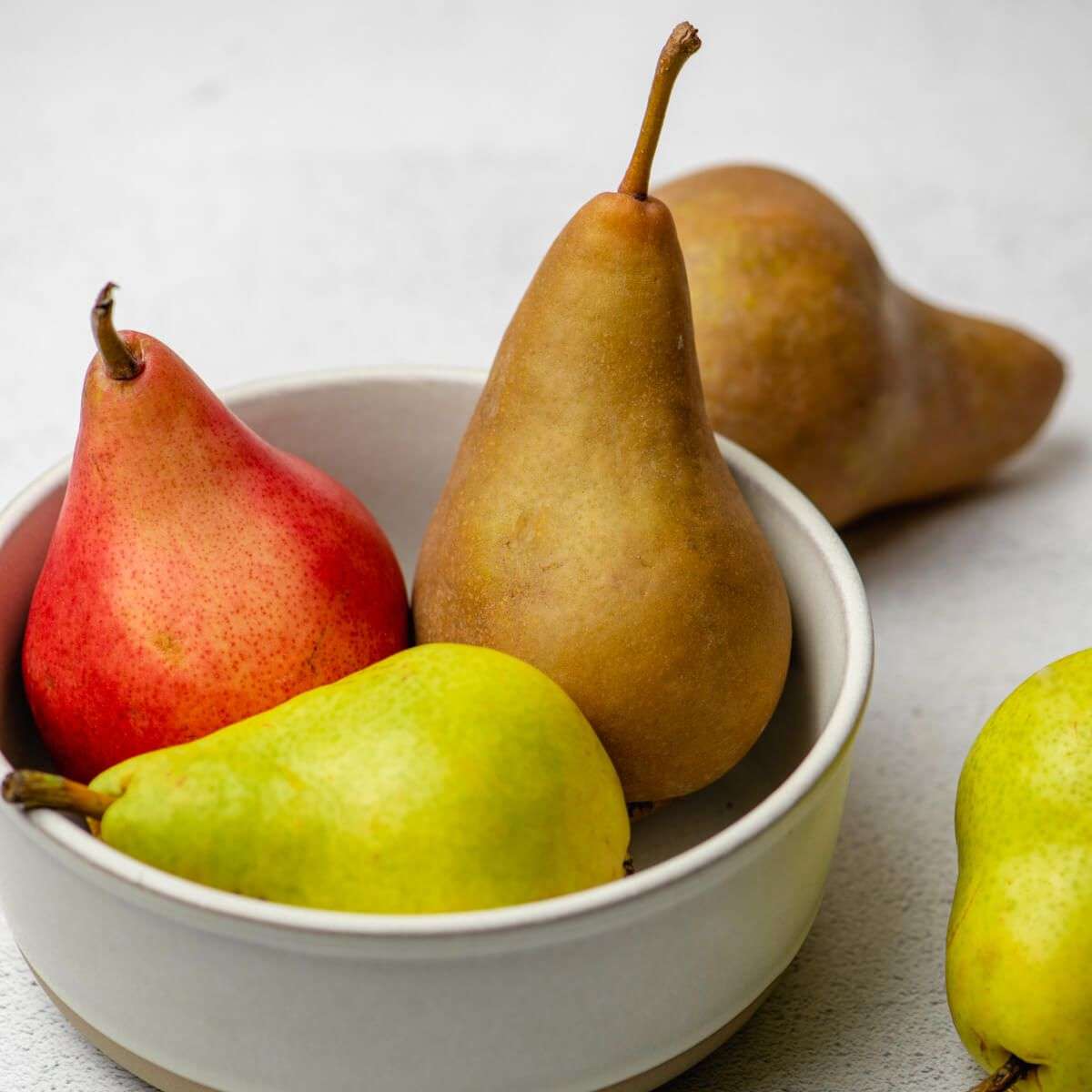 As much as I love apples, nothing compares to a perfectly ripe pear come fall. And, with a little know-how, you can choose and ripen pears to perfection to use for salads, cheese plates, and snacking all season long.
But when is pear season? How do you know if a pear is ripe? Here's everything you didn't know you needed to know about pears.
Jump to:
When Are Pears In Season?
There are 10 varieties of pears, each with their own unique color, flavor, and shape. With overlapping availability, USA grown pears are available all year round. During peak pear season, September to January, you can buy many varieties, but, for most of the year, you'll really only see three at the supermarket: Anjou (green or red), Bartlett (greenish yellow or red), and Bosc (brownish yellow).
Anjou
Both red and green Anjou pears are both refreshingly sweet with a slightly tangy flavor. These juicy, egg-shaped pears have a firm texture perfect for grilling, cooking, or roasting. Anjou pears can be found in stores from October to July.
Bartlett
The signature sweet pear with abundant juice when fully ripe. It's a snack you'll keep reaching for and perfect for salads or a substitute for apples. Green Bartlett pears are in season from August to February. Red Bartlett pears have a shorter season from August to December.
Bosc
These bronze beauties have a crisp, woodsy, honey-sweet flavor. Their firm, dense flesh makes them ideal for snacking, baking, broiling, or poaching. Bosc pairs are one of the most popular varieties you'll find in stores, especially during the fall and winter months, but they are in season from late September to April.
How To Pick Pears
Pears actually ripen off the tree, so they are harvested when they're mature but not ripe. The more time spent on the tree, the more mealy pears become. To find a good pear, you'll need to get a little touchy-feely since most varieties don't change colors as they ripen.
Simply Check the Neck and gently apply pressure to the stem. If it yields, that means it's ripe. Pears that are soft anywhere else indicate an overripe, mushy, mealy fruit.
Keep in mind your eating timeline plays a role in how you pick a pear! If it won't be eaten in a few days, the top should still be hard.
How To Store And Ripen
Just-picked or purchased pears should ripen at room temperature. On the counter is fine, but keep unripe pears out of the refrigerator.
Unripe pears: left at room temperature for a few days until they ripen.
Ripe pears: store in the refrigerator for up to 5 days.
To ripen pears: place pears in a brown paper bag or near other ripening fruits, like bananas.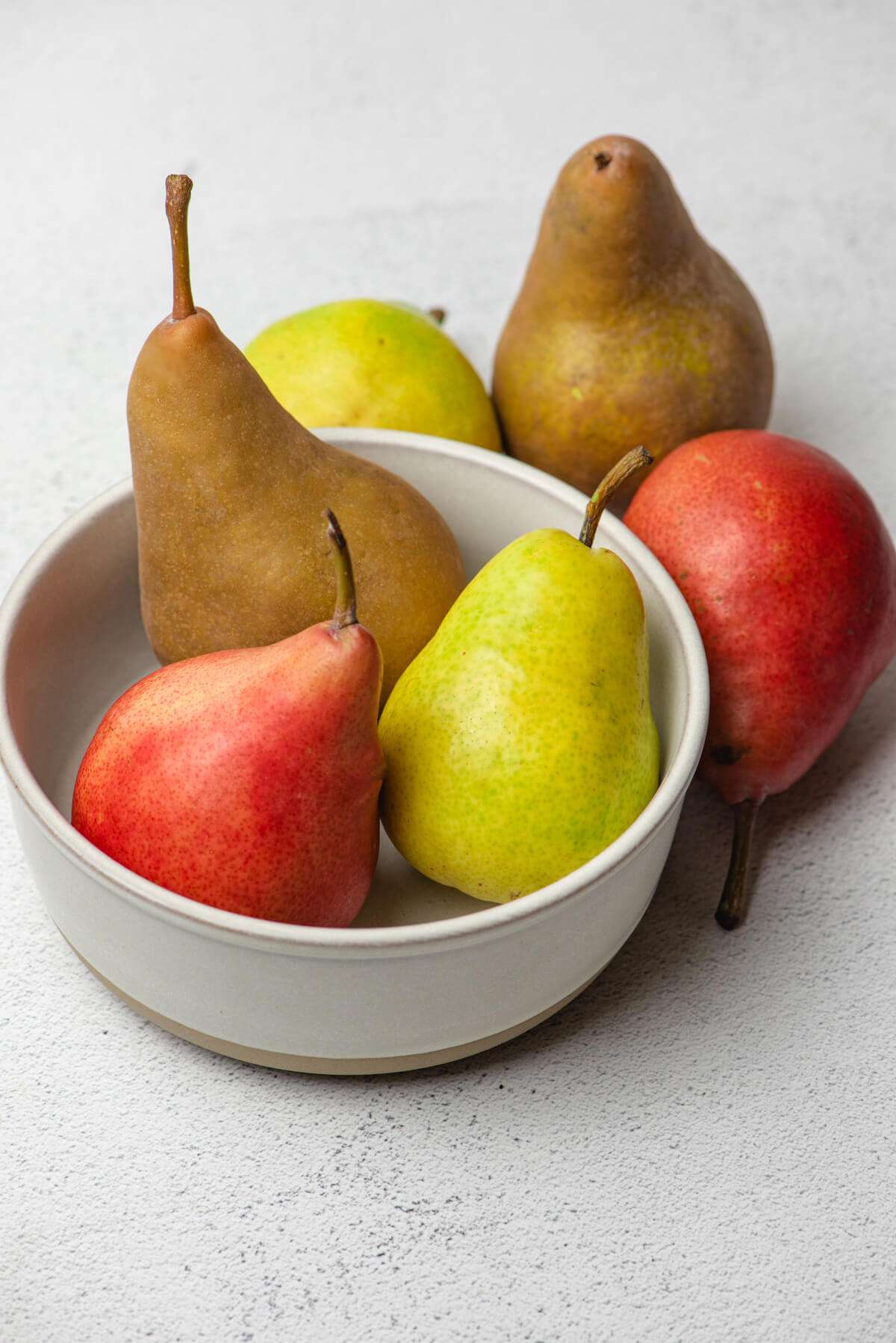 How To Prepare
Use a knife or corer to cut around the core just like you would an apple.
Cut in half, remove the blossom (stem on the bottom) with a knife, peel the stem from top to bottom, scoop out the core with a melon baller (or measuring spoon).
Pro tip: To prevent browning after slicing or dicing, spritz pear slices with a mixture of lemon juice and water.
How To Cook With Pears
Anything apples can do, pears can do better. Pears bake, roast, sauté, and poach better than almost any other fruit.
Everyone falls in love with apple crisp come autumn, but this Quick Ginger Pear Crisp knocks them out of the park.
Dip pear slices in a chocolatey chickpea cookie dough dip.
Add to a bed of arugula or spinach, top with goat cheese and nuts.
Dazzle your guests with a pear, cheese and wine pairing.
Bosc pears are surprisingly delicious with root vegetables. Combine pear wedges with carrots and potatoes for a smoky chicken thigh sheet pan dinner.
Pear Cranberry Oats are a match made in heaven for a nutritious breakfast or easy crisp.
If you find yourself with an abundance of pears, use them for smoothies, soups, sauces and purées.
What's your favorite way to use pears? Let us know in the comments!