Crisp and refreshing, with flavors ranging from tangy to sweet. Bell peppers are some of the most versatile, and popular produce you can buy. An easy way to add a satisfying crunch to any dish - whether you are grilling, stuffing, snacking, or roasting.
But can you taste the difference in colors?
Maybe you've noticed green peppers are slightly bitter and not as sweet. That's because each color represents different ripening stages and has a unique flavor. The longer it stays on the vine, the sweeter and juicer they get!
So, which tastes the sweetest? And why do recipes call for specific color peppers?? Let's take a look!
Green bell peppers
Green bell peppers are the most popular (and cheapest). They're picked off the vine before ripening, producing a bitter, slightly tangy taste. For all you tomato lovers out there, green peppers are the perfect sidekick to tomato dishes, like sauces and pizza!
If you're looking for something with a tangy kick, bring in the green bell pepper.
Yellow bell peppers
Next color on the ripening train, yellow! Yellow bell peppers are many people's go-to thanks to its sweet taste and high nutrient content.
It's fleshy skin makes it perfect for grilling or roasting so you can enjoy it all summer long. Yellow bell peppers are highly versatile and add a pop of color to any dish. Try mixing them into your pastas, salsa, or salads.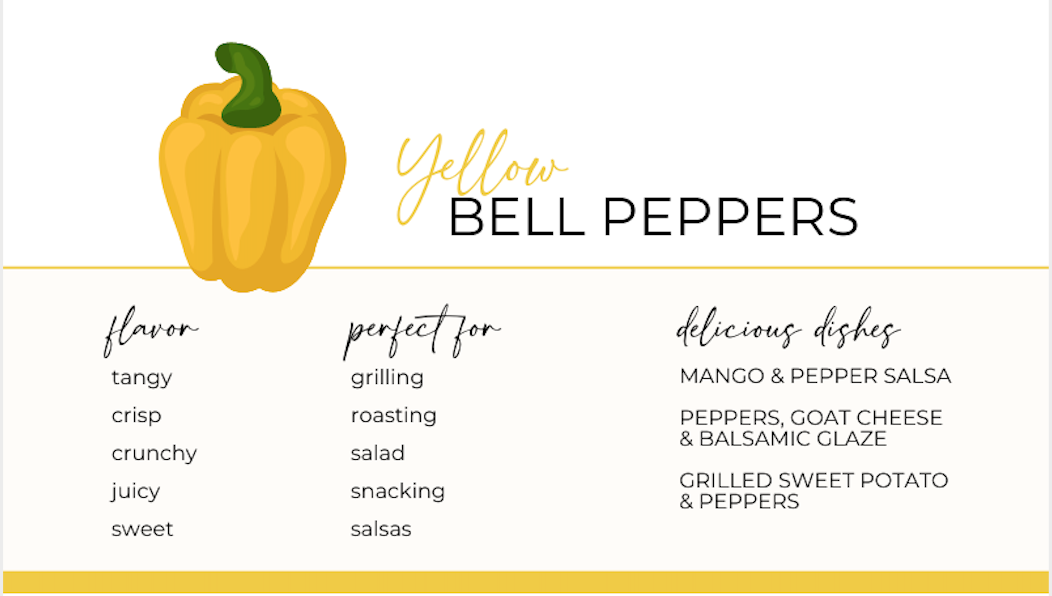 Orange bell peppers
Orange bell peppers have a tangy, fruity flavor that makes them sweeter than green bell peppers. While they're not as fire friendly as yellow or red peppers, they're perfectly suited for stuffing, roasting, salads, or even nachos!
Red bell peppers
The King of the Grill, the sweetest, and the ripest. Red bell peppers go through the full ripening process allowing the natural sugars to enter and create their signature sweet flavor. The process also increases their nutrient content, stuffing them with vitamin C and vitamin A!
Get a boost of flavor (and nutrients) and add them to your salads, salsa, pizza or BBQ!
To download your Pepper Lovers Guide