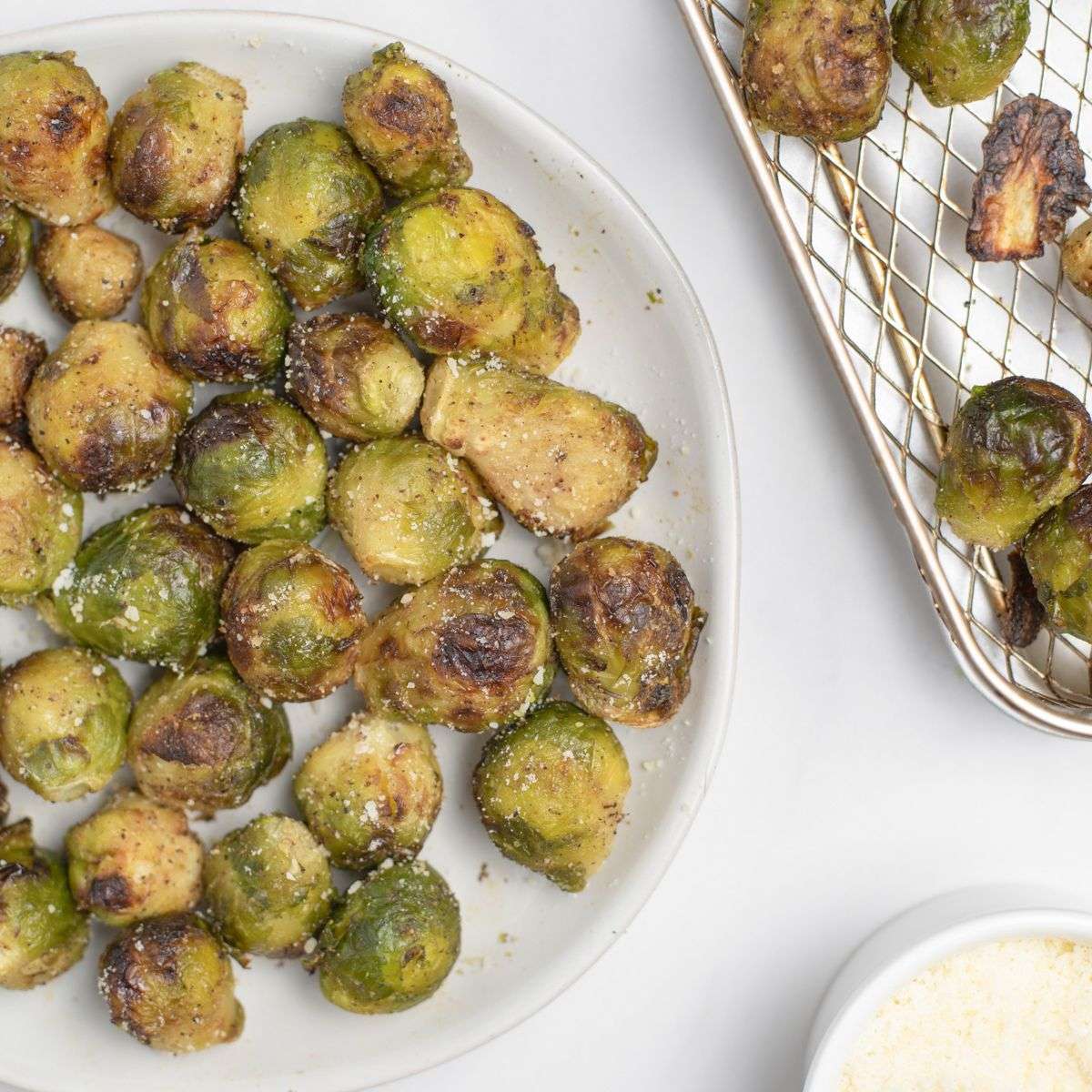 In case you missed the memo, you can cook just about anything in an air fryer. But you know what they're really good for? Turning frozen vegetables into crispy, tender bites of yum in less than 20 minutes, like these Air Fryer Frozen Brussels sprouts.
Cooking frozen vegetables without turning them into a pile of flavorless mush is a struggle. Good news is you can make them taste great and it's super easy!
The air fryer is one of my favorite methods, but you can check out How to Cook With Frozen Vegetables for more tips.
Jump to:
They're a great freezer staple! Frozen Brussels sprouts are inexpensive, filling, and versatile. Bonus: they cook more evenly than fresh Brussels sprouts, leaving you with a crispy exterior that's equally tender on the inside.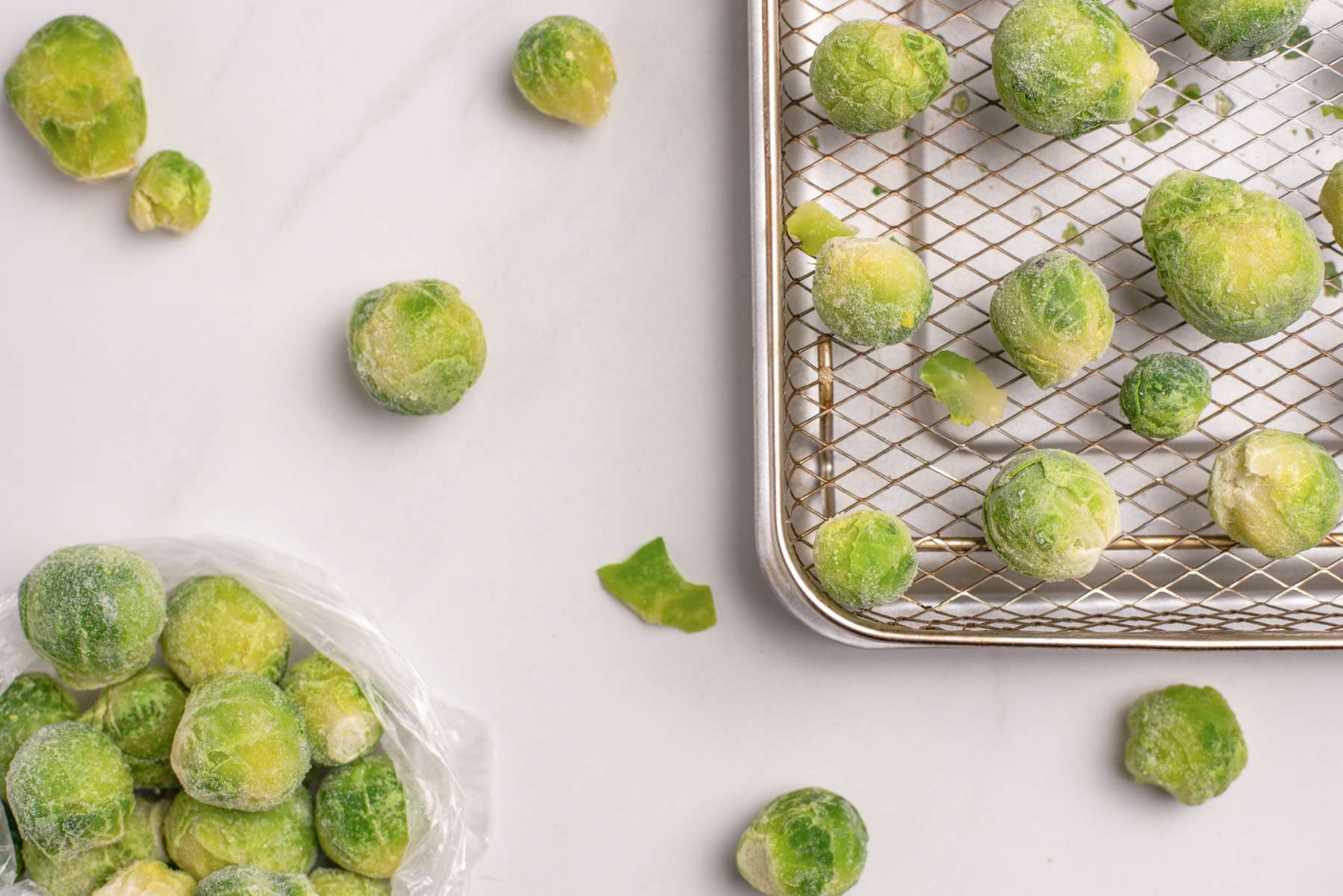 What You'll Need
Frozen brussels sprouts: frozen brussel sprouts cook more evenly than fresh, and they don't require as much attention as cooking fresh brussel sprouts in the air fryer
Oil: coat in olive oil or avocado oil to help the brussels spouts crisp up.
Seasoning: a little salt and pepper goes a long way. Garlic and onion powder are not necessary, but highly recommended.
For simplicity's sake, most often I serve them with a sprinkle of parmesan and a squeeze of fresh lemon. A little brightness, saltiness, and cheese. Done and done.
How To Make Frozen Brussel Sprouts In The Air Fryer
The best part about air frying frozen Brussels sprouts is there's no cutting and little prep required! Simply toss with a little oil, garlic, salt, and pepper and pop in the air fryer. In 20 minutes your Brussels sprouts will be crisp, tender, perfectly caramelized and NOT bitter.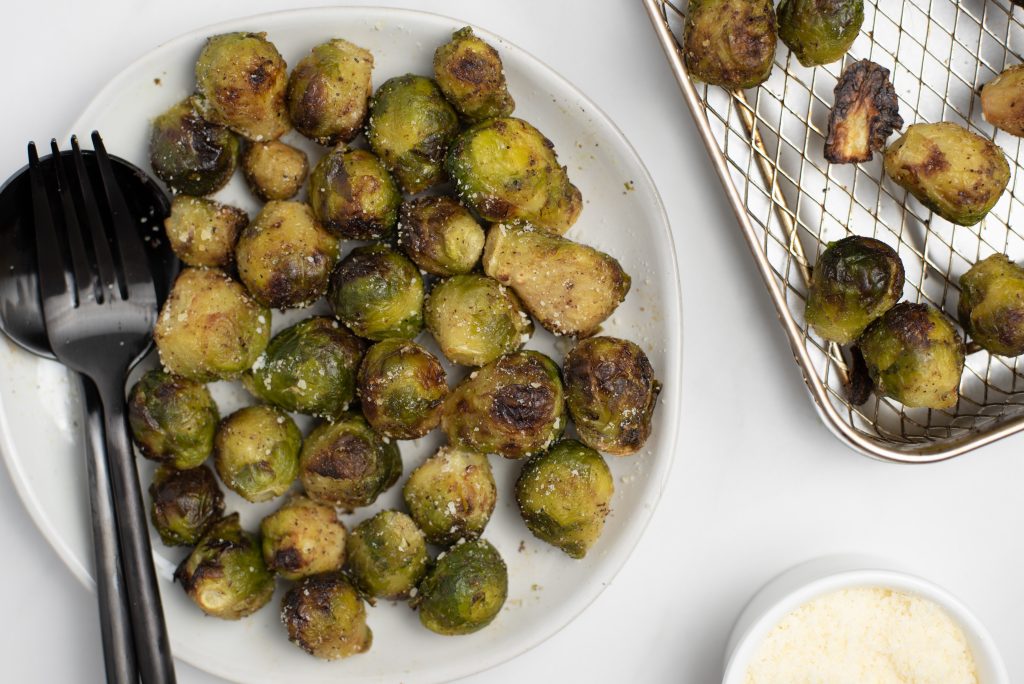 Serve as-is or take your Brussels sprouts up a notch with these mix-ins:
Lemon juice
Balsamic reduction
Honey or maple syrup
Air Fryer Frozen Brussels Sprouts
Make frozen Brussels sprouts taste amazing with this super simple recipe. Use the air fryer or oven to make the perfect roasted frozen brussels sprouts, no cutting or prep required.
Print
Pin
Rate
Ingredients
16

oz

Frozen Brussels Sprouts

½

tablespoon

Olive oil

Salt & pepepr

½

teaspoon

garlic powder

optional

Parmesan cheese

optional

Balsamic vinegar or lemon juice

optional
Instructions
Preheat air fryer to 400°F. In the basket of the air fryer (or a separate mixing bowl) toss the frozen brussels sprouts with olive oil, salt, and pepper. Spread in an even layer in the air fryer basket.

Cook for 10 minutes, flip, and cook another 10-15 minutes or until slightly charred and crisp. Time may vary depending on the model of air fryer you use.

Remove from the basket and toss with balsamic or lemon juice and sprinkle with parmesan, if using.
Notes
Not all air fryers are created equal! You may need to adjust the temperature or cook time depending on your make and model. 
Using an acid like balsamic or lemon juice keeps them crisp and reduces the bitter flavor. You don't have to use them but they sure are tasty!