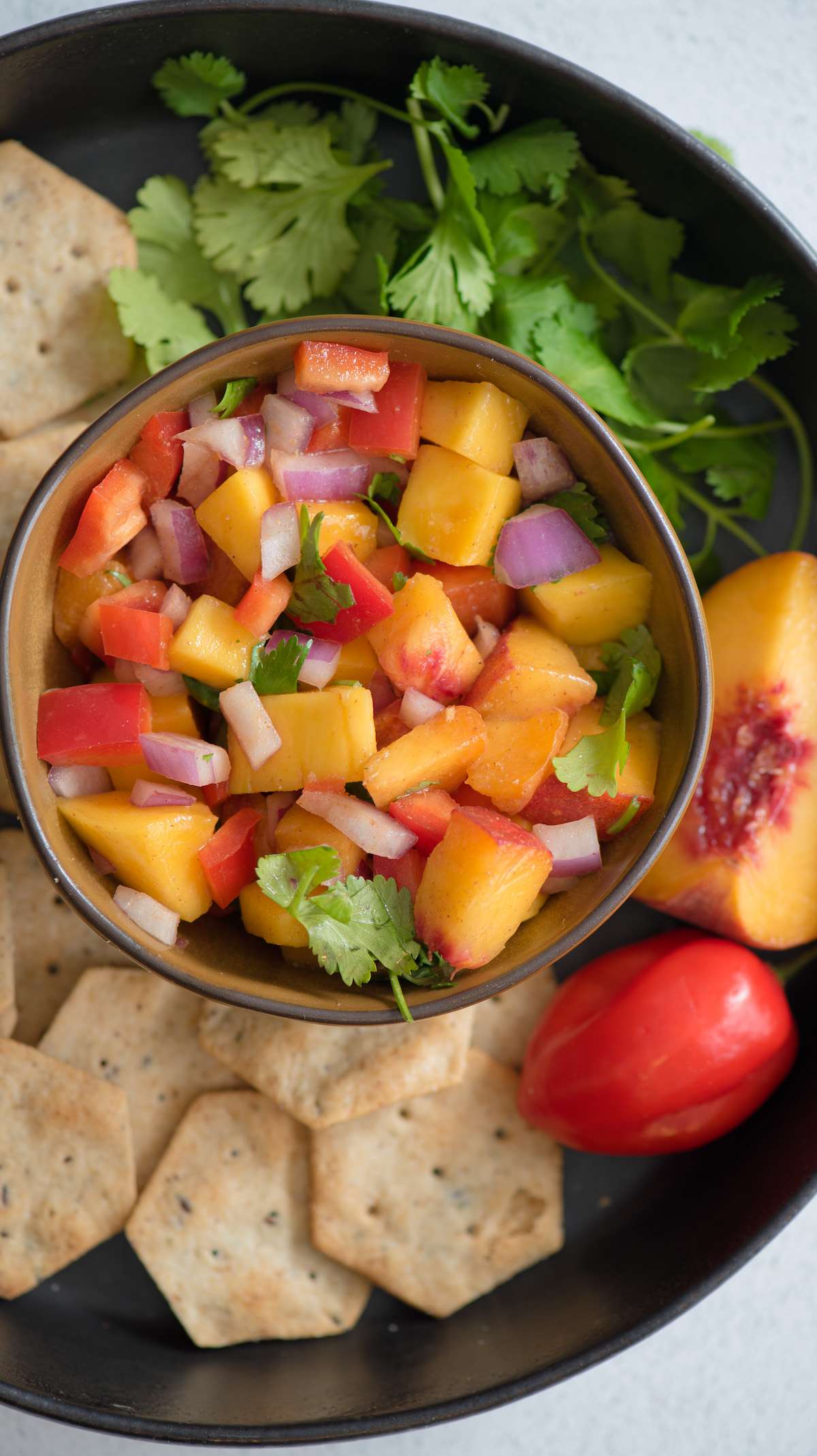 Nothing beats a good chunky salsa, but if you're a fan of fresh juicy mangos - and a little heat - you'll swoon over this peach mango habanero salsa.
IMO, the best salsas are loaded with just the right combination of sweet, salty, and spice. Like this grilled pineapple salsa, habanero salsa is bursting with bold spicy flavor in every scoop-able bite.
It's delicious with chips, as a topping for fish tacos or grilled chicken, and for piling on big summer salads. Serve it up for an easy weeknight dinner or at your next backyard BBQ.
Jump to: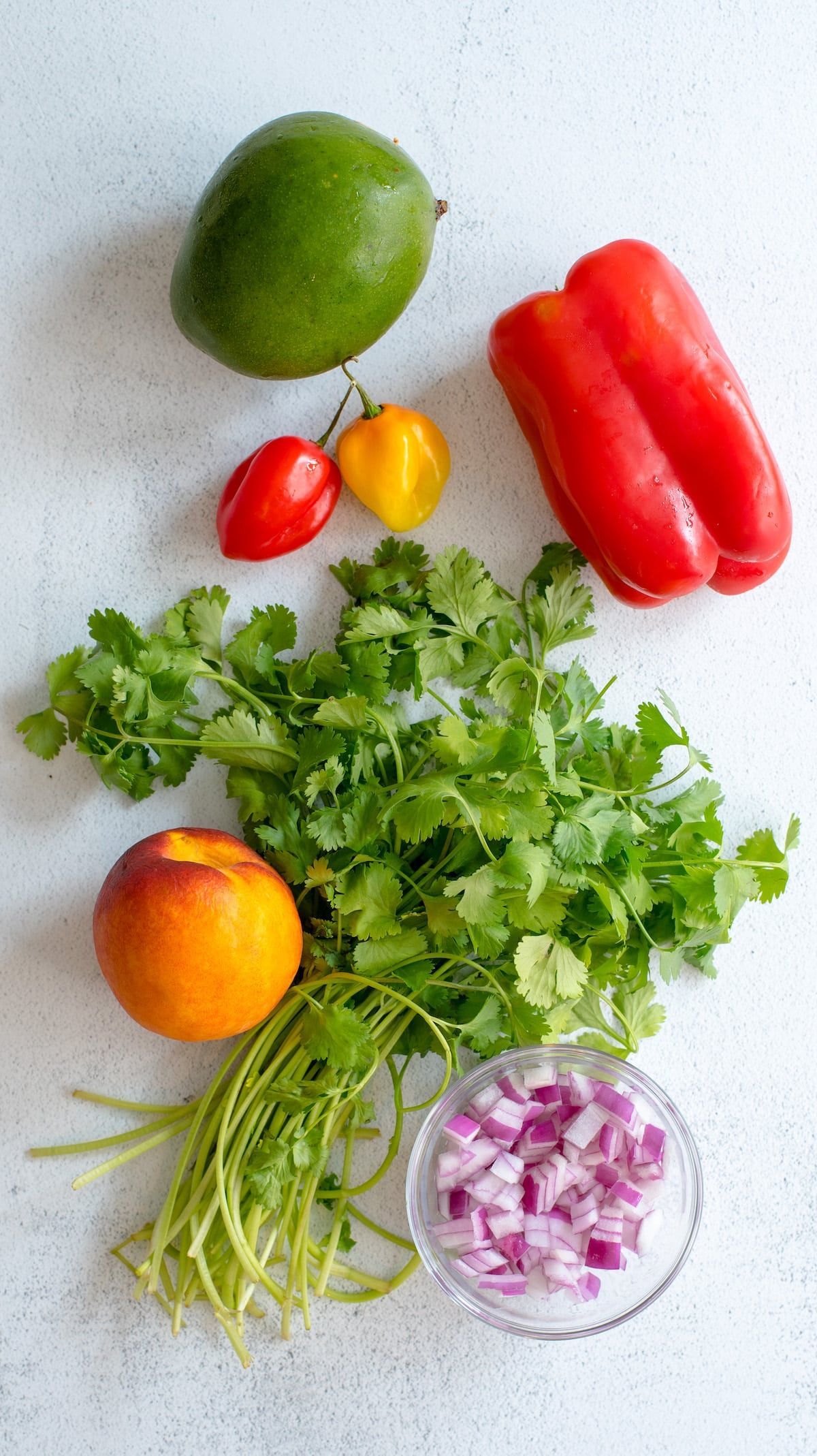 Ingredients For Peach Mango Habanero Salsa
Here's what you need to make this mouthwatering salsa.
Habanero pepper - tiny but mighty pepper packed with some serious heat. Be sure to remove the seeds and wash your hands immediately after handling. Whatever you do, avoid touching your face (you'll thank me later).
Ripe peaches - should be soft but firm and give a little when pressed.
Ripe mangos - fresh, ripe mangos are best. Check out this tutorial for tips on selecting, cutting, and storing.
Red bell pepper - you can use orange or yellow, but it will change the flavor.
Red onion - flavor pairs well with the salsa. If you want it sweeter you can use a yellow or white onion.
Cilantro - fresh is best! Parsley can be used as a substitute.
Lime juice - fresh lime juice is key to a good salsa, but you can use store bought if needed. You may need a little more since it's not as potent.
How To Make
Store bought salsa is great and all, but I would argue that homemade is always better. The sweet and spicy flavor combination in this mango habanero salsa can't be beat - and it's so simple to put together!
Dice or cut your peach, mango, bell pepper, and onion into chunks.
Deseed and finely chop your habanero pepper and cilantro. Mix all ingredients together.
Pro-tip: For help, check out our handy tutorial on How To Cut A Mango!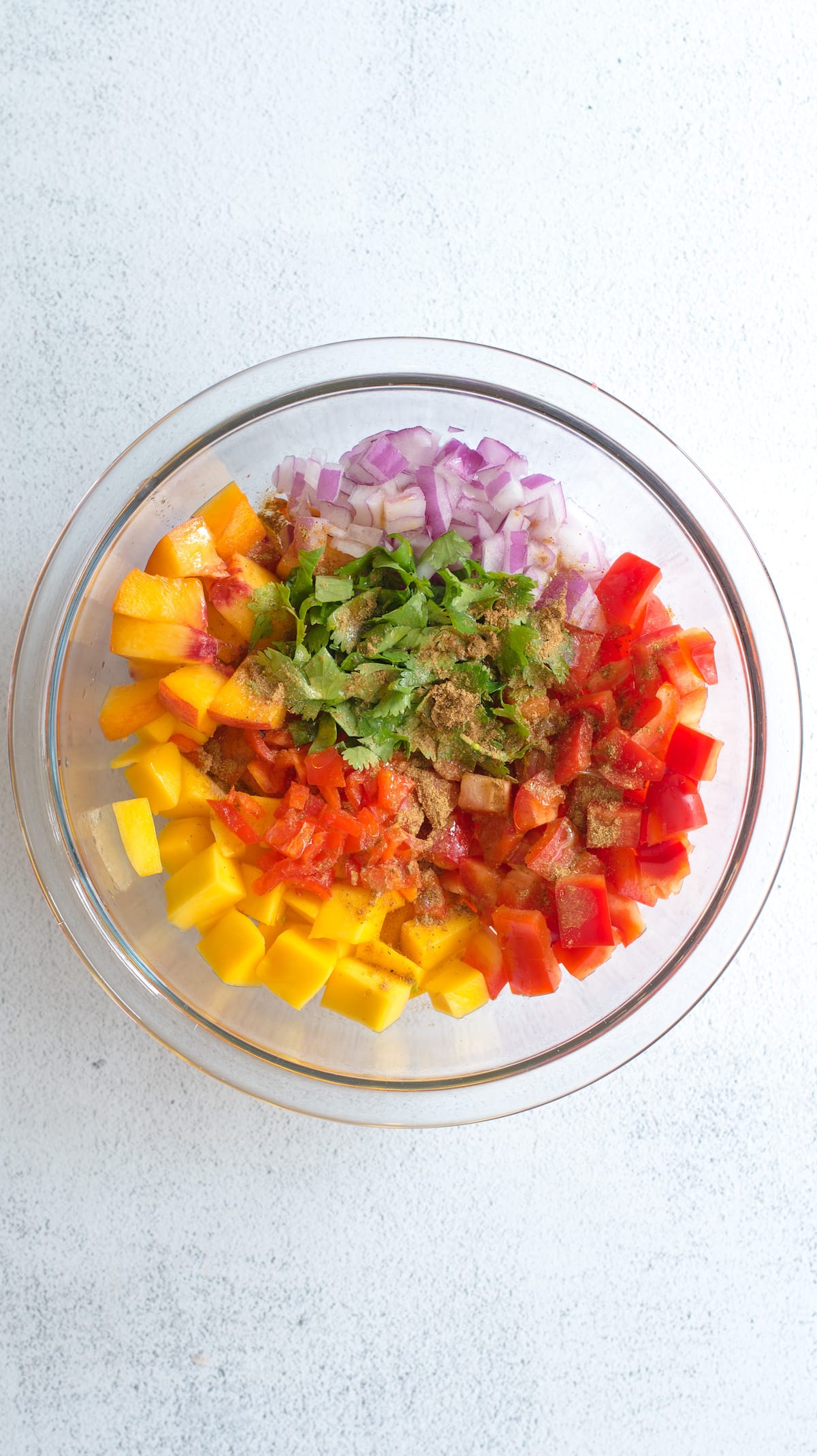 Season with cumin, add salt and pepper as needed.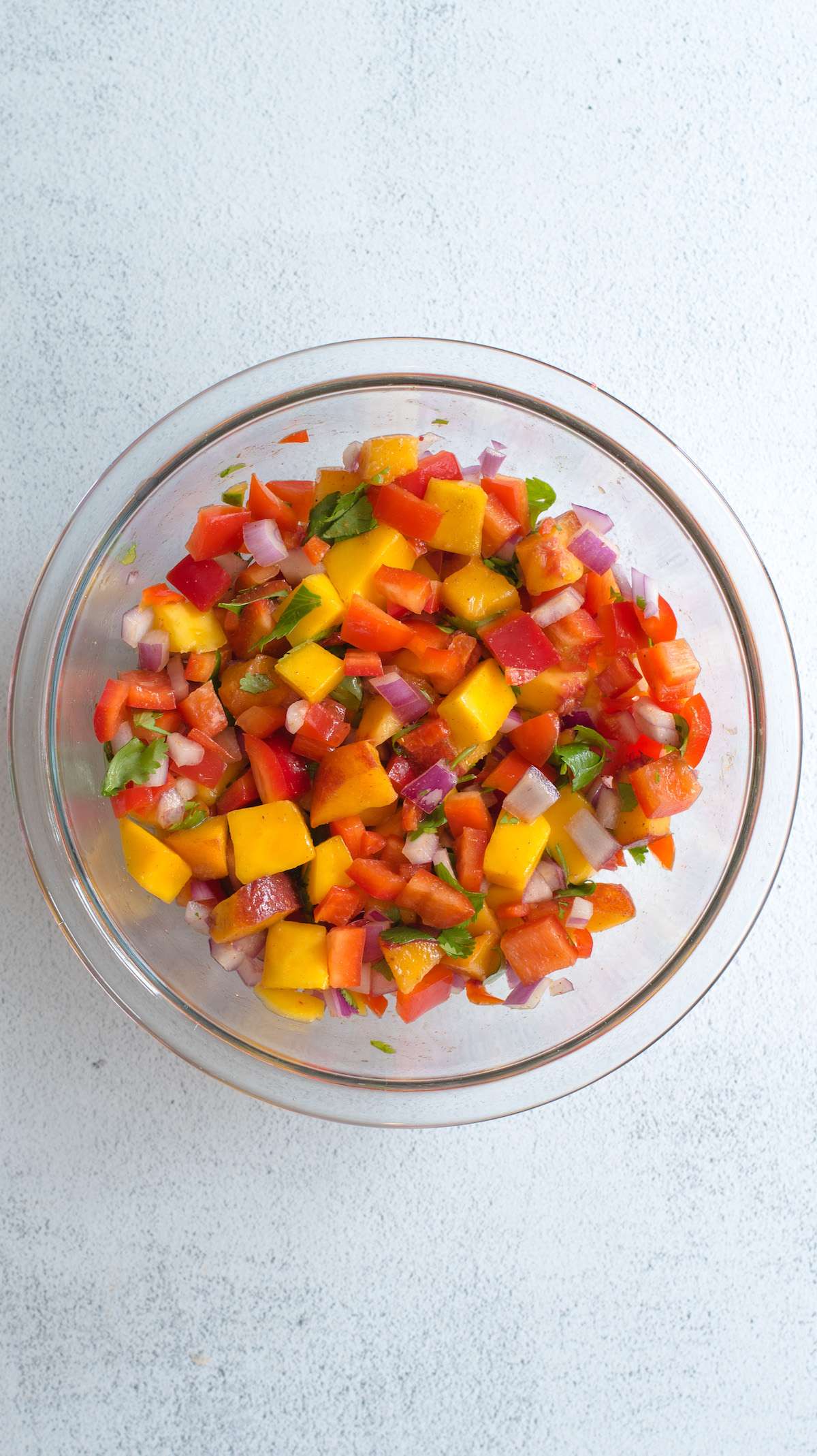 Toss well and enjoy!
Pro-tip: This salsa is already bursting with flavor salt and pepper are totally optional. Go with your tastebuds.
What To Eat With Peach Mango Habanero Salsa
Enjoy this fresh, fruity salsa with a spoon or scoop with chips! I love using Siete Chips or Simple Mills Seed Flour Crackers.
It's also a delicious topping for wings, grilled chicken or fish tacos, burrito bowls, and summer salads.
Variations
Put your own twist on this versatile salsa!
Make Pineapple Mango Habanero Salsa. Swap peaches for pineapples. The juice from the pineapples pairs perfectly with the heat of the peppers.
To make it less spicy, like this Mango Salsa, use half a habanero pepper or substitute with a milder jalapeño. Remember to remove the seeds!
For a spicier salsa, use 2-3 habanero peppers or add a dash of cayenne pepper.
If you don't like chunky salsa, blend it until smooth and then serve.
Habanero Pepper Tips
If you've never dabbled with habanero peppers, they are itty bitty orange guys that pack a big punch. The kind of heat that lingers on the tongue - but in a good way. Here are a few tips to ensure you use them correctly and your salsa is top notch:
Remove the rind and seeds from the habanero peppers (unless you want it extra spicy). This is super important! They are what make the salsa very hot.
A little goes a long way. Add the habanero peppers last and mix in a little at a time. Taste as you go to make sure it's got the right amount of heat.
Use small pieces. You want hints of spice here and there, not a mouth full of fire. Finely chop the habanero pepper or pulse in a food processor.
WASH YOUR HANDS. I repeat, WASH YOUR HANDS immediately after chopping the habanero pepper. And whatever you do, don't touch your eyes (speaking from personal experience.)
FAQs
Can I use a jalapeño in place of the habanero pepper?
Yes, you can use a jalapeño in place of habanero peppers for a milder salsa. Jalapeños don't have as potent of a spicy kick as long as you remove the seeds.
How long can you keep peach mango habanero salsa in the fridge?
Mango habanero salsa can be refrigerated in an airtight container for 2-3 days. After that, it begins to lose flavor.
What can I use as a substitute for cilantro?
If you don't have cilantro or don't like the taste, parsley makes a great substitute. You can also omit entirely.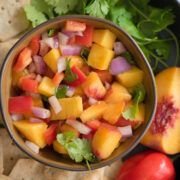 Peach Mango Habanero Salsa
This fresh and vibrant habanero salsa packs a spicy kick. The combination of peach, mango, and habanero peppers is refreshingly sweet with just the right amount of heat. It's perfect for wings, topping chicken or fish, and chips.
Print
Pin
Rate
Ingredients
1

mango,

pitted, diced, and skin removed

1

peach,

pitted and diced

1

red bell pepper,

diced

¼

(about ½ cup)

red onion,

diced

1

habanero pepper,

finely chopped

½

cup

cilantro,

finely chopped

Juice of 1 lime

1

tablespoon

olive oil

1

teaspoon

cumin

Kosher salt and pepper to taste

(optional)
Instructions
Dice or cut the mango and peach into chunks. Cut around the pit of the mango and remove skin. For the peach, remove the pit - the skin can stay on or be removed.

Remove the seeds and finely chop the habanero pepper. If the pieces are too big, pulse in a food processor. Add pepper and chopped cilantro to the bowl.

Add olive oil, lime juice, ground cumin, and salt and pepper to taste. Toss well to combine.

Serve with tortilla chips or use as a topping for wings, chicken, or fish.